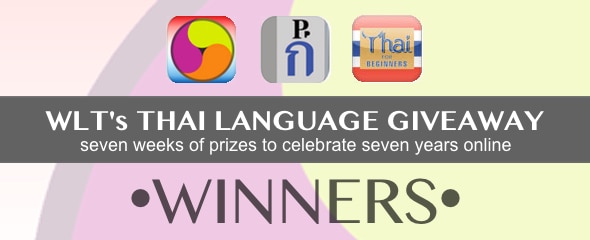 WINNERS to WLT's SECOND week of the Thai Language Giveaway…
The first week of the WLT's seven weeks of Thai Language Giveaways sure went by fast!
Chosen by Benjawan Becker, here are the winners of this week's giveaway: Angela Savage, Tom Kolek, Richard, and Chris. Congrats!
If the winners would please send a message via my contact form I'll get the codes to you right away. Please note that any codes not retrieved by next Wednesday will be given to the winner/s in waiting (already chosen).
A word from Chris and Benjawan…
We at Paiboon Publishing and Word-in-the-Hand are thrilled to hear from everybody. Congratulations to the winners. We are certain these apps will be helpful. Good luck with your Thai studies.
I would like to thank Chris Pirazzi (Word in the Hand) and Benjawan Becker (Paiboon Publishing) for gifting this rounds of prizes. And I'd especially like to thank them both for working so hard all these years to give us some of the top iOS apps on the market. Seriously, I couldn't imagine what learning Thai would be like without them.
My thanks also goes to everyone who took the time to leave comments. And if you didn't win anything this week please keep trying because there's a lot more coming! To get a complete list of the prizes and schedule, read the first post in the series, Please Vote THAI and WIN! 2015: Top 100 Language Lovers Competition.
Good luck everyone, I hope you all go home with wonderful prizes!
WLTs 2015 Thai Language Giveaway…
If you haven't voted in the Language Lovers Competition yet, please do take the time. Thanks!