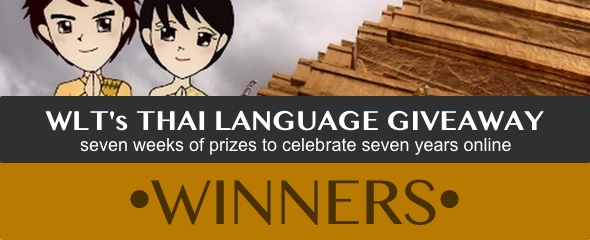 WINNERS to WLT's THIRD week of the Thai Language Giveaway…
Here we are, giving away prizes for the THIRD week of the WLT's seven weeks of Thai Language Giveaways. The weeks are zooming by unbelievably fast, so if you aim to win at some point, do jump in asap!
Chosen by Yuki and Miki, here are the winners: Bernard, Jeremy, Gordon and Liam.
From Yuki and Miki (PickupThai Podcast): We put our hearts and souls into producing the podcasts with the belief that they will be something that makes a difference to the way Thai is taught to non-native speakers. And together with Catherine, we're very happy to be delivering these products to the four lucky winners that we have selected today.

Congratulations, khun Bernard, khun Jeremy, khun Gordon and khun Liam. We really hope you'll enjoy and love our products like our customers do. Special thanks to our loyal PickupThai Podcast fan, khun Keith McDaniel. We truly appreciate your support.
If the winners would please email PickupThai Podcast at [email protected] with their choice of 15 lessons selected from PickupThai Podcast's Store (presently released podcasts only).
Please note that if you do not reach out by next Wednesday, your prize will be given to the winner/s in waiting (already chosen).
I would like to thank Yuki and Miki for sponsoring these wonderful prizes. I know personally that they both work insane hours to create new and fresh materials (some free) for students of the Thai language, all the while keeping busy teaching schedules as well (a definition of movers and shakers if there ever was one). You two rock!
My thanks also goes to those who left comments. And remember, even if you've already won, you are still eligible to keep on winning. Good luck everyone!
To get a complete list of the prizes and schedule, read the first post in the series, Please Vote THAI and WIN! 2015: Top 100 Language Lovers Competition.
WLTs 2015 Thai Language Giveaway…
The Language Lovers Contest…
Public voting in the Language Lovers Contest is over. There were 14,287 votes in the Top 100 Language Learning Blogs section and 12,516 votes in the Top 100 Language Facebook Pages section. Well done!
After deleting duplicate votes, the hardworking team at Lexiophiles and bab.la will rank entries. Public votes count for 50% and the Lexiophiles ranking criteria carries the final 50%. The winners will be announced on June 17th.
EDIT: The winners have been announced. WLT placed 25th in the Top 100 Language Lovers and 7th in the Top 25 Language Learning Blogs. Thank you to everyone who took the time to vote!
And remember, there's still FOUR more weeks of prizes to be given out to celebrate WLT turning seven years. Good luck everyone!