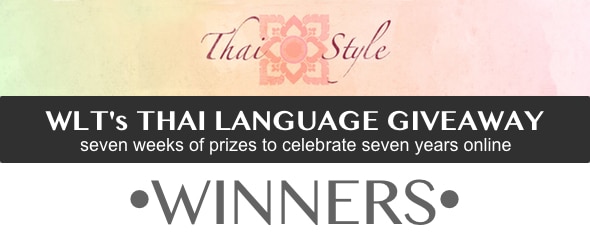 WINNERS to WLT's FIFTH week of the Thai Language Giveaway…
Here we are giving away prizes for the FIFTH week of the WLT's seven weeks of Thai Language Giveaways!
Chosen by Jiab and Tom from Thai Style, here are the winners: Aleishea, Mary, Matthew Greenfield, and Robyn.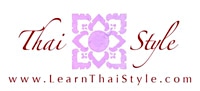 From Jiab and Tom: Congratulations to the lucky winners! We look forward to being a part of your Thai language adventure and hope our course materials enhance your learning experience and help you to achieve your learning goals. We are touched by all your wonderful comments.Thank you so much for taking the time to enter and we hope Catherine will invite us back next year! 🙂
If the winners would please send a message via my contact form with the following information, we'll get your prizes sorted.
Full Name
Email
Phone
Address
Course Option
Teacher Option / Self Study
Please note that if you do not contact me by next Wednesday, your prize will be given to the winner/s in waiting (already chosen).
Thank you Jiab and Tom for joining in the fabulous seven weeks of giveaways. I just know the winners are going to love studying with your materials.
My thanks also goes to everyone who left comments. I'm glad I didn't have to choose winners because there were many wonderful comments. And remember, even if you've already won, you are still eligible to keep on winning! Good luck everyone.
To get a complete list of the prizes and schedule, read the first post in the series, Please Vote THAI and WIN! 2015: Top 100 Language Lovers Competition.
WLTs 2015 Thai Language Giveaway…
Here are the posts so far in WLT's Thai Language Giveaway.
And remember, after this there's still TWO more weeks of prizes to be given out to celebrate WLT turning seven. Good luck everyone!