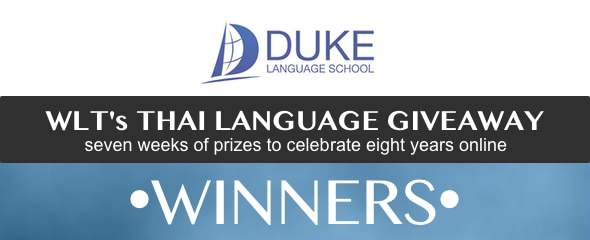 Welcome to the SECOND week of WLT's seven weeks of Thai Language Giveaways. The Language Giveaways are a part of the Language Lovers Competition. If you haven't voted yet, please click on the Language Learning Love Button to your right. Thanks a ton 🙂
Chosen by Duke Thai Language School, here are the winners:
Hello everyone, thank you all for writing about us. We wanted to give our prizes to you all, but could only choose 2 winners (randomly).

And the winners are… MICKY and GORDON!

Congratulations to both of you for winning our intensive 60-hour course at Duke Language School!

As a last minute bonus, we decided not to have any level restriction; you may sign up for ANY LEVEL of your choice. Please visit our website (www.dukelanguage.com) for the course description and schedule. Soon I will email both of you to discuss the terms and conditions for claiming your prize.

For others, do call (+66 8-2444-1595) or email ([email protected]) to schedule a FREE TRIAL LESSON.

Thank you and happy learning!

Bingo, Principal of DLS
Thank you Bingo and Duke Thai Language School for your sponsorship! And a double thanks for adjusting what what were already great prizes. Wow! My thanks also go to those leaving comments as well – be sure to come back for more (there's plenty more).
Note: To get a list of the prizes and schedule for WLT's giveaway, read the first post in the series, Vote THAI and WIN! | SEVEN Weeks of FREE Thai Giveaways.
Let's help SET!…
As already mentioned, the SET Foundation needs our help. Did you know that…
SET became a registered Thai foundation in May 2005. Since 1994, SET has awarded scholarships to more than 6,000 students at high schools, vocational colleges and universities.
If you can, please donate to The SET Foundation by filling out the Paypal button at the top right of their site. Ta 🙂