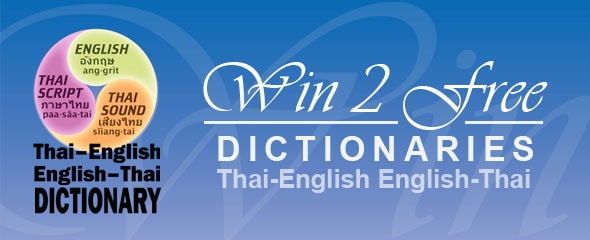 Announcing the second WLT free draw…
Curious. Is there such a thing as a paid draw? Not sure. Anyway… after WLT's first free draw went off ok – Complete Thai: David Smyth Updates Teach Yourself Thai – I decided that giving away free stuff will be a regular item. A good thing, because I'm sitting on a pile of extra stuff. I have Thai dictionaries, Thai courses, Thai phrase books, and even a handful of Scooby Doo books translated into Thai.
In the last draw, Kaewmala (Thai Women Talks) and Ajarn Pasa (Tweet Yourself Thai) shared the joys of keeping everything above board. Thanks you two!
This round, Amy Praphantanathorn (Expat Women in Thailand – no longer online) and Talen (Thailand Land of Smiles – no longer online) are helping out. Amy will do the bowl honours, and Talen will come in with the winners. And if there is a glich similar to last time, their roles will switch.
And same as last time, to get your number(s) in that bowl, you simply leave a comment that matters.
Each comment gets counted, so go ahead and leave as many as you like. But the comments must add to the conversation as well as pertain to this post. So 'cool' 'great' 'rad' on their own do not count as comments. Nor does, 'this contest is really really fab and I really, really, really, wanna win a copy'.
(Ok Martyn, give it your best shot 😉
The draw will be open until 8pm Sunday evening, Bangkok time. And baring any glitches, the winners will be announced sometime on Monday.
Win a FREE Thai-English English-Thai Software Dictionary…
The two Thai-English English-Thai Software Dictionaries have been generously gifted by Chris Pirazzi and Benjawan Poomsan Becker. Hugh reviewed the dictionary here and I reviewed it as well.
As you can read in my review, Chris and Benjawan's dictionary is packed with features, but light on controls. And when your focus is on learning Thai, quick and easy is needed. It's a handy dictionary for most any level of Thai speaker, with a plethora of updates in the wings.
If you want to take a peek at the dictionary, then following Hugh's advice is advised:
Play around with the trial version to see what you think of this new software dictionary. I believe that if you are a serious Thai learner, you will put this dictionary to good use. Especially if, like me, you are on the computer for a large part of the day.
Ok, that's it from me on the contest until Monday soonest. May the best Thai students win! Something like that.