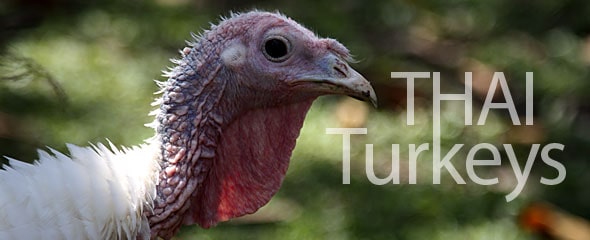 Surprise! Thailand has turkeys too…
Unbelievable. There we were, my long suffering Thai teacher and me, arriving at Wát Chà-lĕrm Prágìat (วัด เฉลิม พระเกียรติ์).
And there they were. White turkeys. Two.
At first I couldn't believe what I was seeing. I mean, turkeys in Thailand? But I do know what turkeys are supposed to look like, so there was no avoiding that.
I had my first real turkey experience back in my 20's, when I leased a house in the hills of Virginia. A house which just happened to come with a 100 acre hunting camp. And it wasn't just any hunting camp. It was a turkey hunting camp. With wild turkeys.
When I first arrived at the camp it was mostly just me, my Ruger, and all those turkeys. Somewhere.
Occasionally an old man would watch me through binoculars (but he didn't count).
And sometimes the guys would stop by for a huge pot of Texas chili and a shooting competition, but mostly for the beer.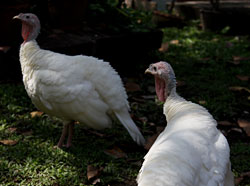 Early in the mornings, toting a Ruger souped-up with a magnum cylinder (rifles were for sissies), I would head into the woods in search of those promised turkeys.
I shot up a lot of cans and more than a few branches off trees, but that was it.
Sigh. For my year there, I had the pleasure of advice and turkey lore from the local hunters, but no turkeys. Not a one.
After the year was out, I came away with a few important turkey facts: Wild turkeys are crafty, careful, and clever; domesticated turkeys are not. And if you have any doubts, drop by a turkey farm to see what I mean.
Getting back to the wat… with a Thanksgiving post in mind, I was snapping turkeys just as dense as their North American counterparts (the domesticated version, obviously).
The two white turkeys would wander around in confused circles. I would follow. Snap. For each gobble, gobble, gobble, I would snap, snap, snap.
They eventually hide their wattles under the monk's quarters.
Not wanting to take photos of rabbits just yet, I went in search of my Thai teacher. It wasn't much of a search as her fondness for making merit makes her an easy find.
What about those Thai turkeys…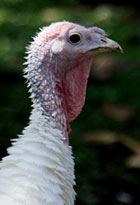 Turkeys in Thailand are known as gài nguang (ไก่งวง). Gài nguang = chicken, trunk = chicken with a trunk (and not the traveling kind).
Curious, I looked up nguang (งวง) on T2E and found lom nguang (ลมงวง), which is Thai for tornado. Lom nguang = air, trunk = air with a trunk… hmmm…
When I asked Rikker about nguang (ไก่งวง), he shot back this sage advice:
And watch your tones. If you mispronounce it as ง่วง ngûang, it turns into 'sleepy chicken'. Must be all the tryptophan!
Still curious, I googled to find that turkeys are not unknown to Thailand, and that expats living here are especially prone to raising them.
Thai turkeys are reputedly tough (not as luscious as the butterballs you might be used to). But if you still want to have a go at tough Thai turkey farm of your own, contact these people:
Animal Husbandry Research Center Tubgwang
A. Meung Saraburi 18000
Tel. (036) 357-362
ศูนย์วิจัยบำรุงพันธุ์สัตว์ทับกวาง
อ.เมือง จ.สระบุรี 18000
โทร. (036) 357-362
Wát Chà-lerm Prágìat…
When you visit Wát Chà-lĕrm Prágìat, you get a mix of history thrown in. Using the bricks of a 17th century fortress built by King Narai of Ayuthaya (you can still see what is left of the fort around the grounds), King Rama III built the wat to honour his mother.
Thailandforvisitors.com (no longer online): The temple consists of a large ubosot (ordination hall), flanked by two smaller wiharns (prayer halls). All three buildings feature roofs with gables richly decorated using colored porcelain, giving them a Chinese flavor that was popular at the time.

The doors and window shutters are decorated with rather simple but elegant designs on black lacquer. Inside the ubosot there are pictures of the current royal family on their many visits to the temple.
The doors and shutters do indeed have elegant designs. Some of the most attractive I've seen actually. King Rama III was born in the year of the rabbit, so the shutters are decorated with rabbits. I didn't discover the reason, but the doors have an intricate dragon design.
And even more mysterious, along the walls are beautifully coloured fish eating fish. The fish must have something to do with the Chinese influence, but what?

Let there be animals…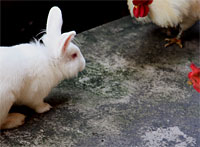 The monks quarters at Wát Chà-lĕrm Prágìat are tree-covered, which I'm told is quite unusual for modern wats.
And all through the shade of those trees, I found animals.
They were hopping, squawking, eating, and sleeping. And facing down nosy rabbits.
After 20 minutes with the wat's menagerie, I came away with two useless facts: Rabbits are sneered at by chickens, guinea hens, and peacocks; Thai turkeys are antisocial too.
Btw: If you are interested, the photos of this wat will be slooooooowly going up under Wat Chalerm Phrakiat on my photoblog.