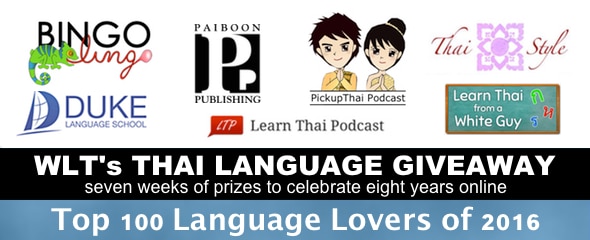 Just like last year's Language Lovers Competition, this year fabulous sponsors supporting the Thai industry have again donated products. Thanks all!
PickupThai Podcast (24th-29th May): SIX winners will get subscriptions to the new Creamy Coconut course for beginners (One winner – all 30 lessons. Two winners – 15 lessons. Three winners – 10 lessons).
Duke Language School (31st May-5th June): TWO 60 hour Journey One group lessons with course books. This is not a taster, the winners go straight through the course to the end.
Bingo-Lingo (7th-12th June): FOUR copies of Bingo's detailed book and CD, Read Thai in 10 Days.
Learn Thai Style (14th-19th June): FOUR Speak Thai Course winners (includes a pre-release version of Speak Thai Course with Thai script only – no transliteration) will receive a lifetime access to over 40 hours of audio and video materials, over 300 worksheets (with or without transliteration), online quizzes, self study materials, learn Thai blog access, as well as access to over 700 trained teachers (UK, USA, Singapore, Thailand and Skype).
Learn Thai from a White Guy (21st-26th June): TWO courses of Learn to Read Thai in 2 Weeks and TWO courses of The Need to Know Sentence Pack.
Learn Thai Podcast (5th-10th July): THREE subscriptions to learn to speak, read, write Thai via LTP's massive Thai course that has over 800 video, audio and text lessons.
Paiboon Publishing and Word in the Hand (12th-17th July): FOUR EACH of the newly updated Talking Thai-Eng-Thai Dictionary apps (your choice of iOS or Android).
Giveaway Rules:
Leave as many relevant comments as you like (with a stress on 'relevant').
Comment on as many of the giveaways as you want (there is no limit on how many prizes you can win).
Claim your prize before the week is out (unclaimed prizes will go to the next in line).
Each post will go live on Tuesdays at 7.30am Thai time and will close out on Sundays at 6pm Thai time.
Note: Those donating will be responsible for choosing the winners so even if you are my buddy you too can win!