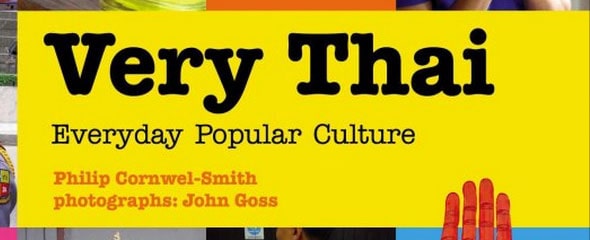 Very Thai: Everyday Popular Culture…
As a tourist to Thailand I enjoyed experiencing a country so very different from where I was living at the time, Brunei Darussalam. Being able to buy booze without leaving the country was also an attraction.
But when I finally moved to Thailand I switched from a carefree tourist mindset to expat mode. The country around me, previously a kaleidoscope of sounds, smells, and clashing colours, started to come into focus.
Along with the focus came questions. Like, why do Thai taxis have those dangly bits hanging from their mirrors? And why do beggars crawl face first along the sidewalk? And why are Thai police uniforms so darn tight?
When I asked other expats their answer was always the illuminating (not) "I dunno". Being me, I needed more, so I started my own search into the why's of Thailand. Hit and miss, the answers to a few Thai quirks are discussed in posts on WLT.
Then I found Very Thai: Everyday Popular Culture, by Philip Cornwel-Smith. Very Thai answered many of my "why" questions, and some I hadn't thought of yet.
These days, when a new expat breezes into Thailand, I don't arrive at their housewarming party with the obligatory bottle of wine and chocolates. I gift them with a copy of Very Thai instead.
Very Thai Photo Exhibition…
On Sunday I jumped into a taxi to view the Very Thai Exhibition in front of ZEN in Bangkok.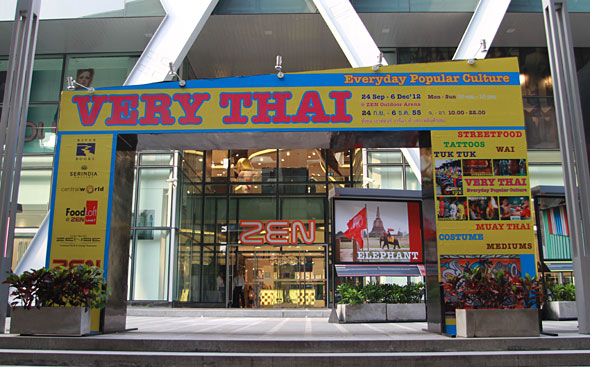 You really can't miss it as the presentation is well placed.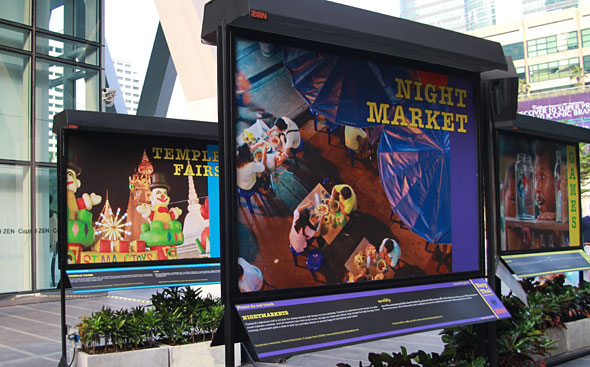 It's a small exhibition with larger than life-sized photos from Very Thai.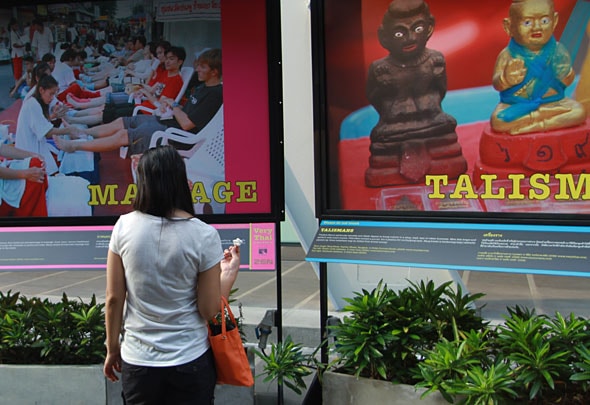 I wasn't the only one curious, a stream of viewers kept popping in front of my camera.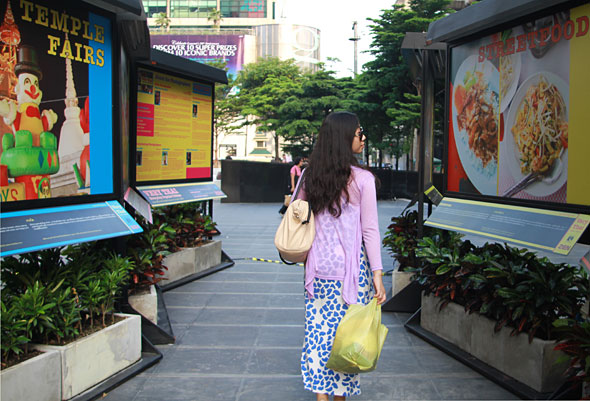 Many found it easy to walk along the exhibition slowly, savoring the eyecandy as they went.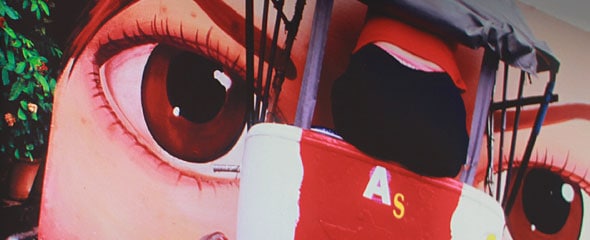 This photo was my favourite eyecandy of all.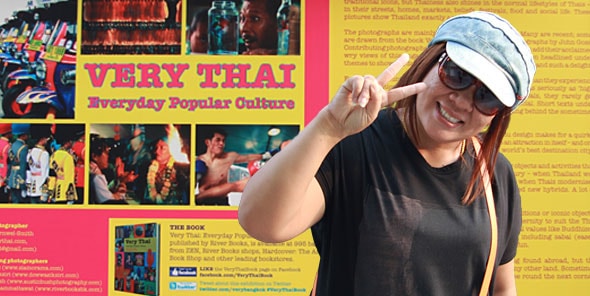 While there it came to me that the photos from the exhibition would be the perfect backdrop for smartphone snappers in Thailand. Because, except for in grocery stores (where it's off-limits to take photos of veggies) you'll find people posing in front of just about anything. And I still don't know why that is.
To get all the lastest news about Very Bangkok and Very Thai, follow Philip on Facebook at VeryThaiBook or on twitter @verybangkok, or bookmark his website: Very Thai.
Sidenote: the editor of Very Thai is Alex Kerr. You might remember the review I wrote of Alex's excellent Bangkok Found awhile back. And seriously, if you want to know more about Thailand, you couldn't go wrong with both Very Thai and Bangkok Found on your bookshelf.