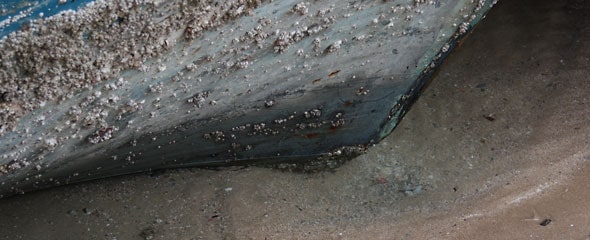 Yeah! You are on your way to Thailand!…
You purchased a Thai language phrase book, shoved it into the bottom of your backpack or luggage, and off you went to Thailand.
So wrong.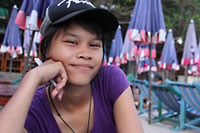 In Traveling with Thai Phrase Books, I learned a simple lesson, which is: you get out of phrase books what you put in.
Seriously.
Look at it this way. When you are searching for a word or phrase to converse with the pen wielding Thai waitress at the end of your table, time is limited. Sometimes theirs.
Or how about this one. When your head is pounding and stomach is heaving, and you flip hopelessly back and forth through your phrase book to find any word or phrase for the Thai pharmacist, time is so limited. Usually yours.
Before you get on that plane…
So before you pack your bags even, spend some quality time with your phrase book.
First, read your phrase book of choice from cover to cover, taking note of which phrases hold an interest for you.
Then, using coloured highlighters, yellow stickies, pen or pencil or all of the before mentioned, start making your phrase book your own.
Yes, mark up and dog-ear that baby, because the chances are you'll lose it at some point after your arrival anyway, so you might as well use it well.
For notes and reminders, affix a blank page to the back of the book. You can either cut pages to size, or fold a page to fit. Easy.
If you are a seasoned traveler you'll know what to look for. If not, then turn to the Key Phrases section of your phrase book and start practicing.
What? You don't have a key phrases section? Then you bought the wrong phrase book.
To practice: Add your phrases of choice to flash cards to read in spare moments; jot them on yellow stickies to attach to your bathroom mirror for an early morning brush up; or, if sound files were included, load them into your iPod for almost anywhere.
These Thai phrases are wired for sound…
Yes, in a perfect world – especially with a tonal language like Thai – your phrase book will come with sound files.
In the beginning everything will be odd sounding, so be patient and pretty soon a phrase or two will sound natural. I promise.
But I can't say this enough: Thai is a tonal language.
So if your phrase book is lacking sound, head over to the Mother of all Thai resources: Learn Thai for FREE and take your pick.
Before you get off that plane…
There you are, finally, on your flight to Thailand, with an umbrella hanging off the corner of your fruity drink. You are so excited that you can't sit still.
Hey, all that nervous energy is a good thing as your real homework has just begun!
That's right, while still on the plane, dig out your phrase book and sound files (if you have them) and go over the very first words you'll say once in Thailand.
Let's see, they just might be สวัสดี ค่ะ/ครับ (sà-wàt-dee khâ/cap) followed by แท็กซี่ (táek-sêe), which is generally followed by the instructions to your hotel. And you do know those, right?
So here's the plan. Each morning, before stepping out of your cosy world and into the Kingdom of Thailand, take note of the phrases and words you'll need: Taking taxis, shopping, getting a massage, going sightseeing, house hunting, asking for directions, whatever.
And if you make this a habit, you'll get the best out of your phrase book as well as the Thai experience, for sure.
Transliteration, my pet peeve…
To prepare for this series I purchased over a dozen Thai phrase books. Along with several surprises, I discovered that hardly any use the same transliteration style.
On top of the transliteration confusion (they can't all be right, right?), your home country accent – Australian, Canadian, American, British, French, German or whatever – does matter.
And with Thai being a tonal language (there I go again), well, I'm sure you can see where I'm going with this…
Transliteration is meant to be used as a crutch, not a lifeline. So if you do plan on spending a fair time in Thailand, perhaps put some time into learning the basics of the Thai alphabet.
Even if it is only enough to clarify for your ears whether ก sounds like a G or a K, you'll thank me.
A Thai phrase book tip recap…
Read through your phrase book at least once.
Take note of the phrases you'll use most often.
Practice key phrases (with an iPod if possible).
Before heading out, highlight the phrases you'll need.
Jot down notes and reminders for later.
Other Thai phrase resources…
Conversational Thai in 7 Days
Break the language barrier the quick and easy way! (easy is not going to happen, but the phrases are handy).
In-Flight Thai
Learn before you land: Over 400 essential words, phrases, and expressions.
Next up: Thai Language Phrase Books: A Mega Review.
Reviewing Thai phrase books, the series…