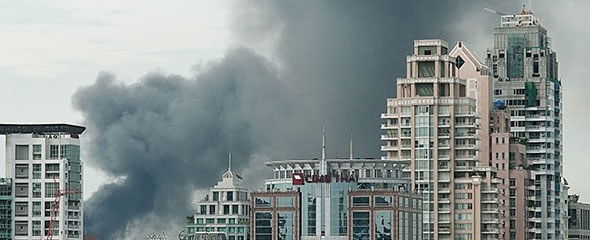 A bit more worried than before…
We are still ok! However now we are a bit more worried than before.
The 19th was hell on earth. Once the leaders gave up all hell broke loose and there were heavy explosions, gunfire, fireworks and smoke everywhere around us. Our windows were shaking vigorously with many explosions. This kept going until dark.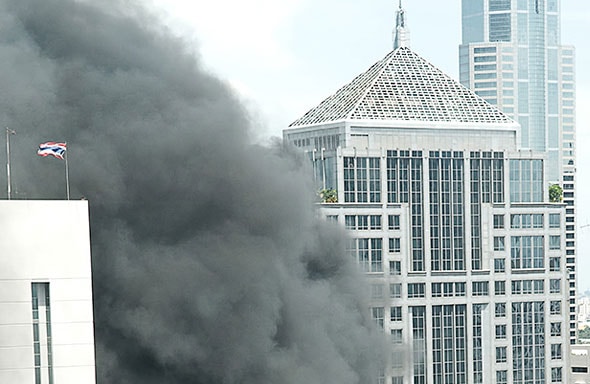 From our bedroom window we saw with horror and disbelief Centralworld first going up in heavy black smoke, then fire, and then we heard the terrible noise of part of the building collapsing. That was a shocking moment because it sent burning debris and sparks flying high up and towards our building. At times we were completely engulfed in the smoke from Centralworld – the stench from that fire is still hanging in our apartment.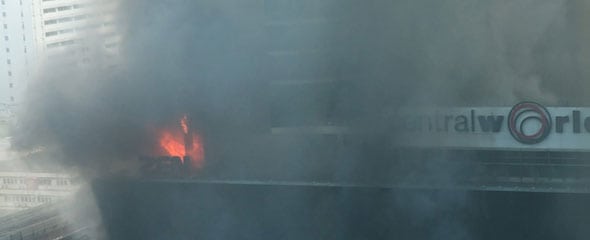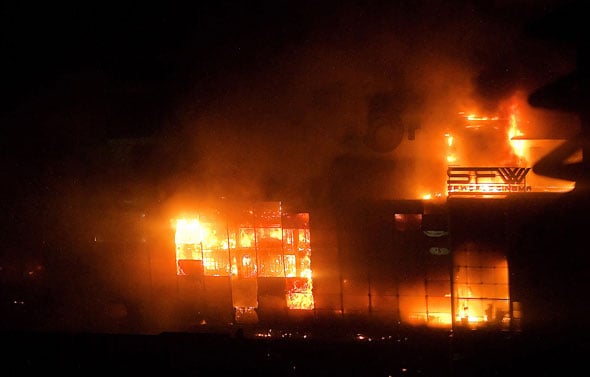 This morning after the curfew we went out onto the street to see what's left. What a mess! What a tragedy! Opposite what's left from Centralworld BigC was engulfed in flames. Later firefighters told us that it's completely burnt out in the inside.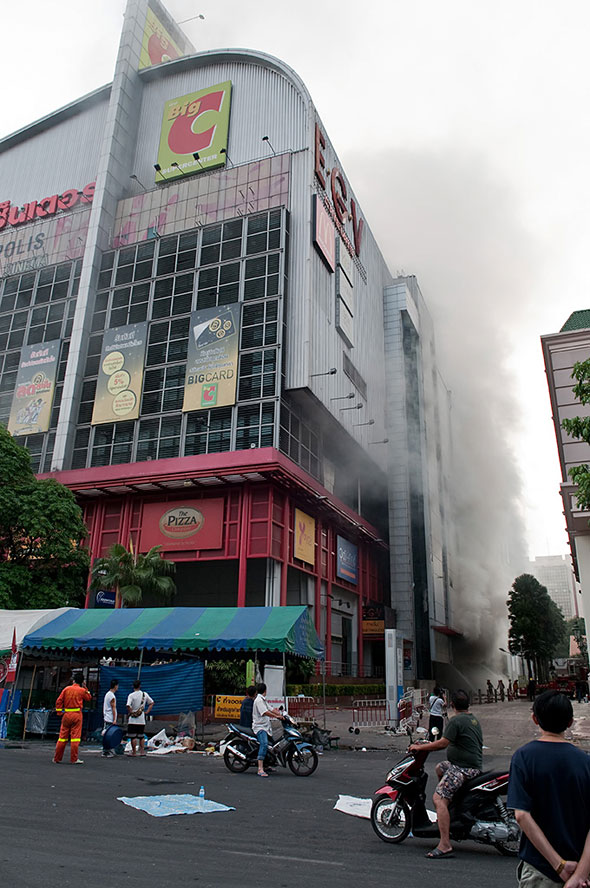 There was so much destruction everywhere; so many shops and restaurants looted and burnt.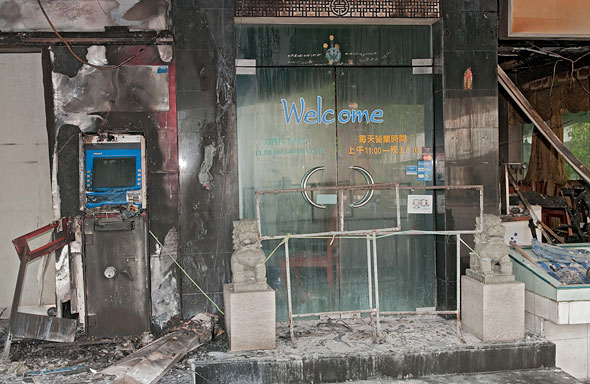 We met poor street vendors that sold us much of the food we had in the last weeks – many of them in tears trying to rescue at least something. Some reds were searching in what was left from their tents to see whether anything of their possessions might still be left.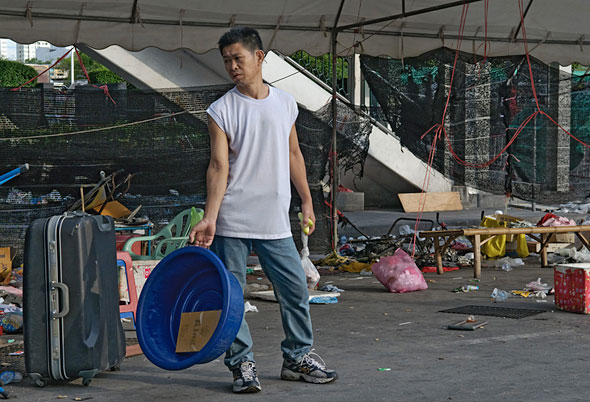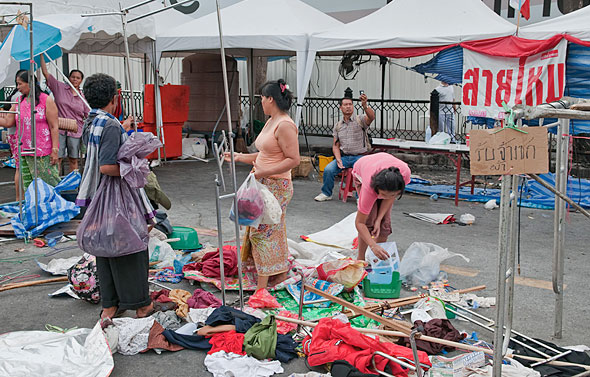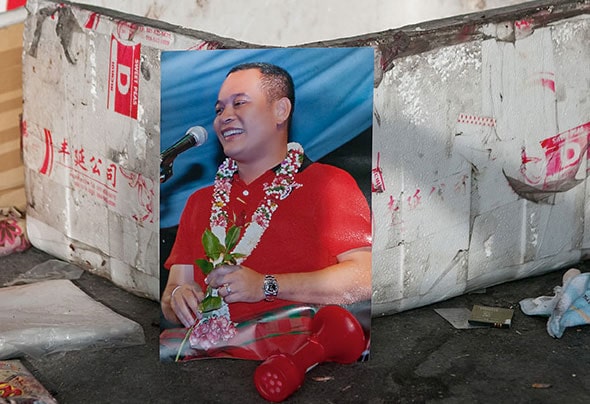 Just when we went back home the street we were on came under fire from very close. We were running for our lives. Later troops were screening every corner, house, hotel and all roofs in the area from pockets of "terrorists". We have not been allowed to leave our house for the rest of the days.

All people we met are absolutely convinced that this is now only a beginning and we will witness a bloody guerilla war starting soon. Doesn't sound good.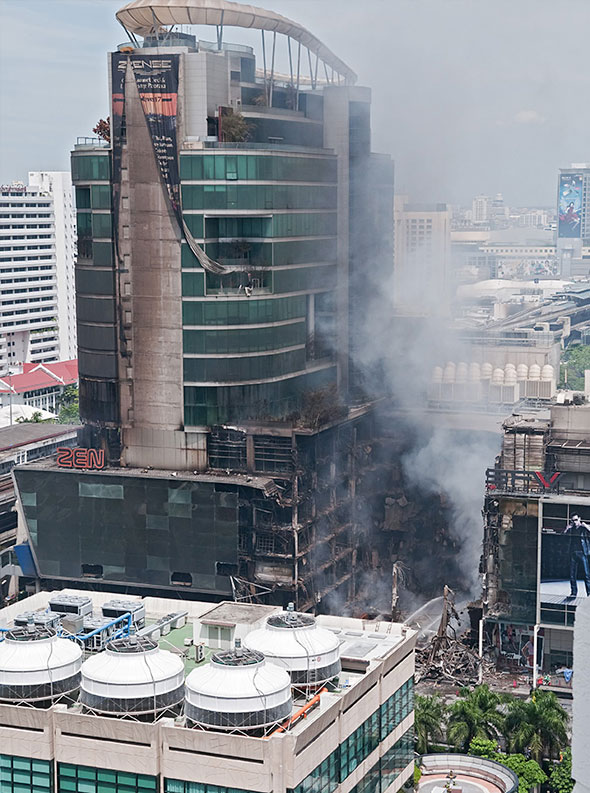 We still heard gunfire and few explosions in our neighborhood during the day yesterday.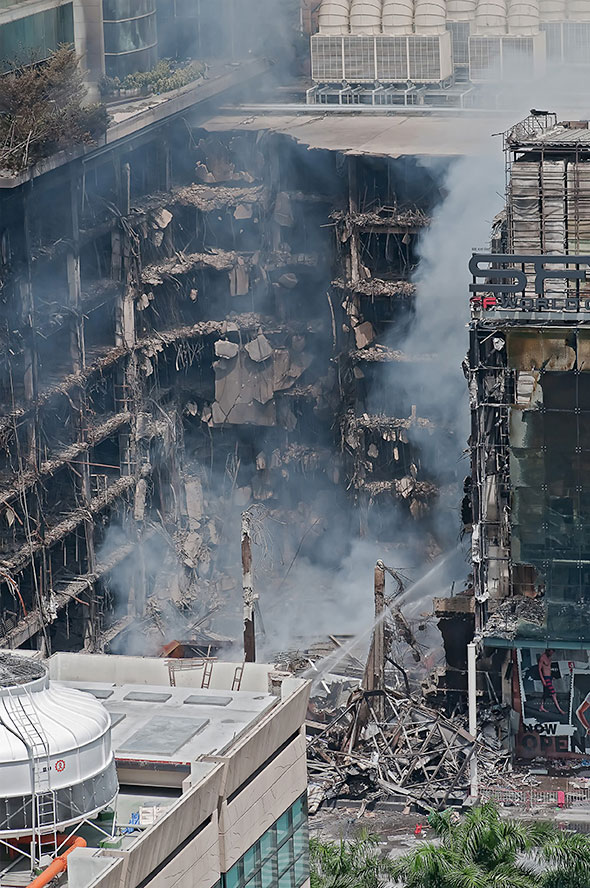 At least it's quiet now. Let's hope it remains that way.
Best regards,
Bernd Mechsner
flickr: Ratchaprasong
ThaiVisa: My Neighborhood Under Siege: Ratchaprason
For the rest of Bernd's eye-witness reports from Ratchaprasong, please read:
NOTE: At Bernd's request, comments are closed.
RIP Bernd Mechsner. After being forced to delete an eyewitness testimony from this post, I wonder what Bernd would have said to: "the Southern Bangkok Criminal Court has now ruled that the six people who died inside Wat Pathum Wanaram grounds on May 19, 2010 were killed by shots fired by the military".