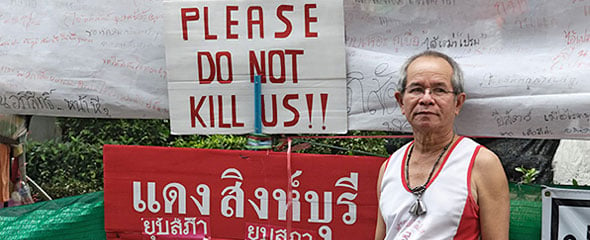 Here is a short update…
At the moment we have power most of the time. There have been only a few blackouts so far. Mobile phone signal is off mostly and the internet signal is very unstable. Lots of interruptions – sometimes for hours. Water is still running with few interruptions.
Our neighborhood is completely sealed off with the army's "Live Fire Zones". The government reported that 32'000 troops are controlling the area and they have got the order "shoot to kill". The government has confirmed today that the troops are authorized use live ammunition and to shoot anyone approaching them closer than 30m.
We have absolutely no way of getting out without risking our lives.
Going near those army checkpoints is a Russian Roulette. There have been 24 deaths and about 180 injured so far in the last two days. I'm afraid that the real number might be much higher.
There have been 24 deaths and about 180 injured so far in the last two days. According to various international media reports all deaths were unarmed civilians.
No supplies of food or anything else is coming into our neighborhood; we are now living of our reserves.
Yesterday and until the early morning hours we could hear nearly constant gunfire and some louder explosions from different directions. We haven't slept properly for many days now.
Right now it's quiet – what an incredible relief!! Let's hope it's not the calm before the big storm! The only threatening thing that can be seen right now is black smoke coming from around Lumpini Park.
We keep praying for the best.
Best regards,
Bernd Mechsner
flickr: Ratchaprasong
ThaiVisa: My Neighborhood Under Siege: Ratchaprason