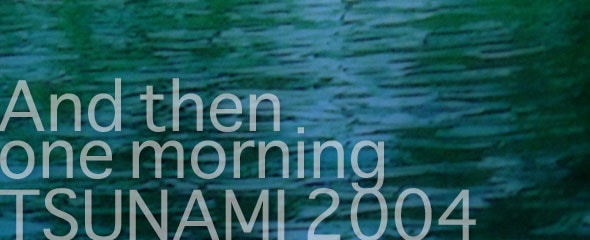 Remembering the Tsunami of 2004…
What happened on Boxing Day 2004 was horrific. Even though I wasn't on the ground, it marked my life. And because of that, every year I've put aside time to honour those caught up in the events.
This year I made a point to read And Then One Morning, an eyewitness account written by Aaron Le Boutillier (interviewed earlier this month on WLT).
Aaron's book saddened me but gave hope as well. It underlined how fragile life can be, but it also brought home how an event so massively terrifying can change lives forever. And not always for the worst.
I didn't have an easy time writing this post so please forgive its faults.
And then one morning…
When the tsunami hit I was on the island of Borneo, wandering around packing boxes bound for Thailand. My Thai visa being delayed, I was experiencing the simmering limbo well-known to seasoned expats.
On the same side of the world Aaron was visiting Phi Phi, Thailand, to help a longtime friend and his family of five relocate to Phuket. It was meant to be their last Christmas on the island, with Boxing Day being moving day.
At about ten the next morning I was in that comfortable slumber zone… Suddenly my brain was registering the sound of children screaming. At first I thought some idiots were trying to scare them, but the screams were genuinely frightened, so much so that they were frightening me… Now fully awake, I could hear that the screaming was mixed with another sound – a crunching, grinding, roaring kind. It would be almost another two days before I would sleep again.
So while I was casually sipping coffee and recovering from Christmas dinner of the night before, Aaron was waking up to the fight of his life.
Through the noise I picked up the words "wing wing" which means "run run" in Thai and I heard the sound of feet pounding on the sandy street outside my room.

I jumped out of bed and pushed open my wooden window.

Down on the street, the first thing I saw was Heinz with Anna under his arm and Tina holding onto his hand. I shouted down to him and he looked at me for a brief second with eyes that will haunt me until the day I die.
An hour after the tsunami hit I was most likely moving slow, perhaps wondering what to wear that evening at Barnaby and Luciana's. Or maybe, just maybe, I was thinking about what leftovers to reheat for lunch. But whatever it was, was not life threatening.
All I knew was that I was alive and badly cut up. There were many people who were alive but in desperate situations. Some would die but there were many, many who were already dead. Ten? Fifty? A hundred? Possibly more. But did I think tsunami? The answer is no… Life had truly been reduced to its very basics – trying to stay alive – certainly not trying to analyse what might have caused this hell. This was an obscene soup, not a tsunami wave.
For me, the quiet of lunchtime came and went. And as far as I knew nothing out of the ordinary was happening. It was just a typical day on yet another Christmas holiday.
I had lost count of how many dead bodies I'd seen already. Curiously, although my mission was now to find Heinz, Oiy, Tina, Anna and little Dino, it didn't occur to me to look to see if any of these bodies were theirs. It never entered my mind that they might not have survived.

I scrambled up the hillside to join the crowd making their exodus from the beach and suddenly I saw them – Oiy and Dino side by side. Dino looked completely blank, like so many others. Oiy looked to be in total despair and I could see she was suffering from some nasty wounds… It was just the two of them – no Heinz or Tina or Anna.
That evening at Barnaby and Luciana's I celebrated with friends made during nine years of Borneo living. At some point late in the evening there was a whispered mention of a tragedy somewhere in the region but the discussion never took hold. Too many rounds of holiday cheer? I honestly don't know.
It was only when I checked emails that I read how serious it was. Arriving home I found an inbox filled with friends panicking at my lack of a response, some even posting alerts on design forums to see if I'd survived. But I was not in Thailand. Yet.
The day after the tsunami hit I bounced between the BBC and the Internet. The day after the tsunami hit Aaron continued his search for his dear friends.
Nothing could prepare me for what I was about to see. There must have been ten rows of bodies with a short gap between them for walking down. In total, there was about six hundred bodies. All of these were from Phi Phi: babies, toddlers, children, adolescents and adults… We stood there for some time with our own thoughts. After the spell was broken we made our way to the front of the row and then up and down six hundred corpses looking for Heinz, Tina or Anna.
From the quotes I selected above, it's obvious that 'And Then One Morning' is not an easy read. Especially if you are reading this during the holiday celebrations of Boxing Day, 2010. But if you too want to understand just a bit of what happened during the Tsunami, then I highly recommend grabbing a copy.
Interview: Aaron Le Boutillier…
Aaron, one year, two years, three years… as time marches on, each year the impact from a life changing experience morphs. Looking back over the six years, how do you see the influence of the tsunami on your life?
Looking back, while although I wished all those lives were spared, experiencing the tsunami gave me a unique insight into people and the fragility of life that we all take for granted.

In the space of a few hours, I saw the best and worst of humans, ranging from pure heroism that a person can have for a complete stranger to the human instinct of people benefiting from the misfortune of others.

To have faced death square in the eyes, then through sheer luck survived, is a rewarding experience. It gives an inner peace that you can never truly understand unless you have experienced such an event.

On a negative, I cannot stop my mind from playing games. Quite frequently in a crowded environment where everyone is relaxed and enjoying themselves, I will imagine a tragedy, go through how everyone will cope and the horror of the aftermath.

I think all survivors have their demons and when you have been so closely linked to so much death it does affect your imagination. As a result it occasionally becomes quite dark.

All in all, I gained from the experience and have used it to make my future more rewarding.
Aaron Le Boutillier
And Then One Morning | Le Boutillier Group
Successful Thai Language Learner: Aaron Le Boutillier