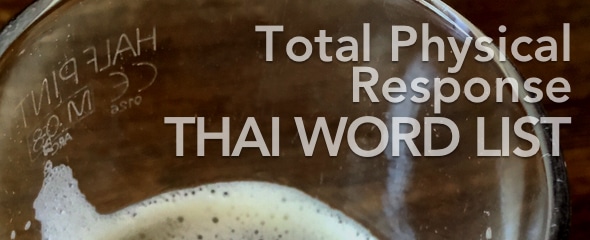 In Andrej's post, TPR: Total Physical Response Explained, he went over the basics of TPR for us.
The main idea of TPR is to teach comprehension through actions: the instructor gives commands, and the student carries them out. It is mostly used with beginners. Usually, the student doesn't speak during TPR sessions, but speaking can be integrated later by having students take on the role of the instructor.
To help you with possible words and phrases, below is an edited version of Reid Wilson's 502 Words that Can Be Learned with Total Physical Response, translated into Thai.
PDF: Total Physical Response Thai Word List.
The translations were done by Khun Pairoa and myself, then checked by Khun Narisa (thaiskypeteachers.com). Any mistakes are mine.
UPDATE: Tracy took the time to put together the below video created from the list. He's so cute 🙂
I got a Thai friend to do audio, and a couple of my kids made a short video that we can use with my younger children. I appreciate you posting the list of 500 words in Thai. Thanks.
Please feel free to suggest more words and phrases to improve the list. After they've been added, audio will be recorded.
PSSST: The words and phrases in this list would work wonderfully as a smartphone app.