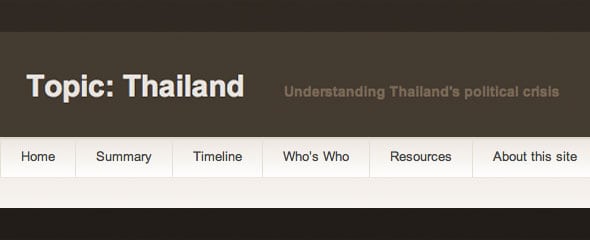 Understanding Thailand's political crisis…
During my research for an earlier post, Staying Safe in Thailand: Streetwise Advice + Twitter, Newley Purnell introduced me to his grand new site: Topic: Thailand. Understanding Thailand's political crisis.
Now, I love world history, but I haven't always been fond of politics (or does my fondness stop at politicians instead?) And while I have read books on Thailand, as well as poked around a few Thai political blogs, I'm not clued in on how Thailand got from Thaksin, to where it stands now.
And after spending a month plus wading through seas of Yellows, then Reds, then Pinks and multi-colours, I seriously want to know more about the politics of Thailand.
Newley's TopicThailand.com suits my aims:
TopicThailand.com was created by me, Newley Purnell. I'm an American freelance journalist who lives in Bangkok.

Given the complexity of Thailand's political situation, I wanted to create a site that provides context and background information to help explain what's happening here.
Haven't been much of a political book hound…
Back in 2008 I did compile a shortlist of must-have books on Thailand, but the list does not cover the present political crisis. For that, I'm going with Newley's advice:
The books I've linked to from TopicThailand.com are designed to put Thailand's current political instability in context. In fact, that's the aim of the entire site* — I wanted to help explain, in my own small way, what the current turbulence is all about.

The news media — understandably — focuses on the story of the moment. The most recent violence; the most recent speeches; the newest quotes, etc. And while this is, obviously, necessary for following the events, it can leave some folks confused, and lacking background info and analysis. (I also link to new developments when they come about, but the focus of TopicThailand is more on analysis and other big-picture items.)

So the links to the books are designed to offer people a way to delve a bit deeper. After all, what's happening in Thailand now looks much different when you're familiar with the history of Thailand's political workings.

*As I say on the About page, the idea for a site designed to offer context for a big issue isn't new. I have been inspired by TheMoneyMeltdown.com, Matt Thompson's site about the sub-prime financial crisis.
And that's exactly what I need: knowledge about Thailand's political workings.
Books about Thai politics and society…
While my political stash is thin, thanks to Danny from DCO, I do have a few of the books listed on TopicThailand.com: A History of Thailand, Thaksin, and Thailand: A Short History. To get the rest I contacted Danny as he's brilliant at sourcing books in this huge city (Bangkok).
Thailand still has a thriving English language publishing business covering not just this country but the neighbouring countries where rules on what can be published are far more restrictive. To pick out just two publishers, Silkworm Books and White Lotus have dared to publish contentious books on politics in Thailand.
So in addition to Newley's list, I have a few more:
The Boys in Black (white lotus), by Professor Desmond Ball.
I came across this one in a Bangkok Post article: The boys in black, Thailand's dangerous, dark influence. As it seems relevant to the times, I've added it here.
Are a disbanded group of specialist military rangers the shadowy figures operating in the current conflict? Here is a look at the history of the country's hunter-fighters, a group of trained killers.
Another political book in my bookcase is Red vrs Yellow, by Nick Nostitz.
Red vs. Yellow, Volume 1: Thailand's crisis of identity describes, both in photos and in text, the political turmoil and violent street protests that took place during the first elected administration in Thailand after the 2006/2007 coup period, its government led by the PPP (People Power Party) a place holder party of the TRT (Thai Rak Thai) which had been ousted by the military coup.
I might be a political lightweight, but with the resources on Newley's TopicThailand.com, I'm well on way my to understanding what makes Thailand tick.