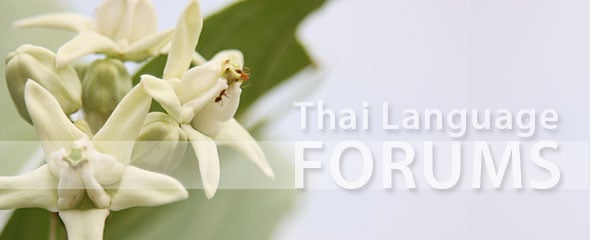 Thai language learning forums…
This week I started thinking about how much I depend on Thai language forums. So much so, that I've added the top two to my sidebar.
After, I started thinking that maybe you depend on Thai language forums too. And that got me to thinking that there is a real possibility that some of you won't know which Thai language forums to frequent.
So anyway, here they are…
The three big boys of the Thai learning forum pack…
Thaivisa.com: Thai Language Forum
The Thai language forum at ThaiVisa is the most prolific post-wise out of the three forums I've listed here. It is sometimes quiet, sometimes stormy.
If you are new to the forum, head to their pinned posts first. ThaiVisa's online search works quite well so it's wise to use it before asking question. Or maybe not.
Btw – Rikker is a mod there, so watch your step.
EDIT 1: This is no longer the best forum for Thai learners. ThaiVisa is allowing their sponsors to call the shots and long-time members are being banned for protesting. Due to their heavy-handedness, valuable members have stopped commenting. In addition, Rikker is no longer an active mod.
EDIT 2 [1-8-15]: ThaiVisa has just been bought out so there could be a chance things will change for the good. Fingers crossed that it goes back to being what it was.
Thailandqa.com
The Paknam Web forum has the strictest posting rules overall. And because it is youngster-safe, you will find Thai learners of all ages in attendance. It's a relatively quiet forum, but the learning resources are megga extensive and the sharing from members generous, so arrive prepared to poke around fair bit.
For more of Pakman, be sure to read: Learn Thai on the Paknam Web Network
Thai-language.com: Thai Language Forum
While Glenn's forum doesn't have super-fast commenting going on either, it does have a steady stream of back and forth. Thai-language.com is a fabulous venue for putting questions to other focused Thai students and is 99.9999999% dedicated to learning the Thai language (so there is not much fear of getting sidetracked). Excellent.
For more about the site, read: Glenn Slayden's thai-language.com
Smaller Thai language learning forums…
Seems that more people are learning Thai these days so a few of the smaller forums are coming into their own. There might not be a lot of traffic but for the most part they offer a pleasant learning experience.
SolveThai
This is a promising new forum that houses the archives of the Farang Can Learn Thai Facebook group.
Thailand-UK Thai forum
A community of Thai learners living in the UK.
If you know of any other Thai language forums please drop me a line.