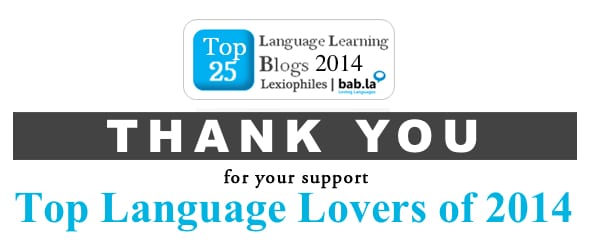 The Top 100 Language Lovers Competition for 2014 has ended…
Here's a huge THANK YOU from me, to everyone who voted this year. I also want to thank guest writers Hugh Leong and Tod Daniels, who balance out the articles on WLT (sorely needed).
I also want to thank the teams at bab.la and Lexiophiles who put together the competition. As it's a huge job I'm sure they worked crazy hours until it was final.
This year the Top Language Lovers Competition received over 1,200 nominations and more than 55,000 votes.
If you are looking for a good resource to learn Thai online, check out Learn Thai from a White Guy. Upon entering your email, you'll get five free lessons to help you start learning to read Thai.
There were only 200 winning places to fill: 100 Language Lovers, 25 Language Blogs, 25 Professional blogs, 25 Facebook pages, 25 twitter accounts, and 25 YouTube accounts.
Adam Bradshaw came 3rd in the Top 25 Language Youtube Channels and 35th in the Top 100 Language Lovers section. Well deserved Adam!
Kruu Wee Teach Thai (first time in the competition) came 17th in the Top 25 Language Youtube Channels section. Again, well done!
Both Adam Bradshaw and Kruu Wee are popular on the hopping Farang Can Learn Thai Facebook Group. See you there?
Women Learn Thai came 17th place in the Top 25 Language Learning Blogs and 83rd place in the Top 100 Language Lovers. Coming 83rd is a kick in the butt for me to do better next year so get ready for some action.