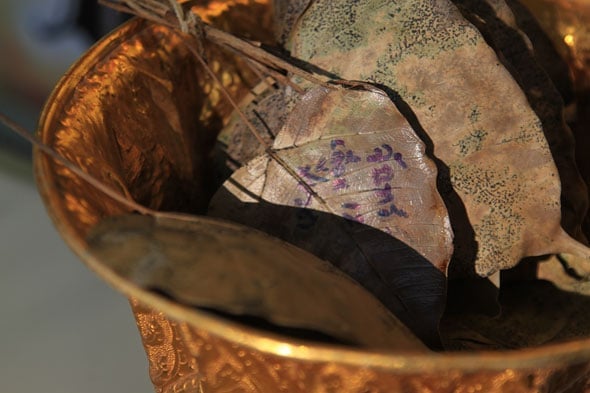 The oldest Buddha tree in Thailand…
On a recent drive I came across Ton Pho Si Maha Pho (ต้นโพธิ์ศรีมหาโพธ /dtôn-poh-sĕe má-hăa pôht/) in Prachin Buri. It's said to be the oldest Buddha tree in Thailand.
From what I've read, 2000 years ago a seedling was brought from Buddhgaya, India, to be planted in Thailand. The tree I saw that day was not the original traveler, but an offshoot.
The ribbon-wrapped tree was set in the middle of an ample green lawn, encircled by a stone building with a roof. The side of the building facing the tree was open. No doors. No walls. Just wooden struts to stabilize the roof. At intervals under the roof, bowls filled with tied bunches of leaves were placed on small tables. Some Bodhi leaves had writings on them. Some were still waiting.
Why go to all this effort for a tree? When Lord Buddha came to enlightenment under a Bo-Tree (Ficus religiosa), he created a growing, living symbol. And that symbol has been traveling to far-flung parts of the world.
Years ago I did my part when transporting a seedling to Brunei Darussalam. I don't know if it's won any converts, but it's sure to be huge by now.