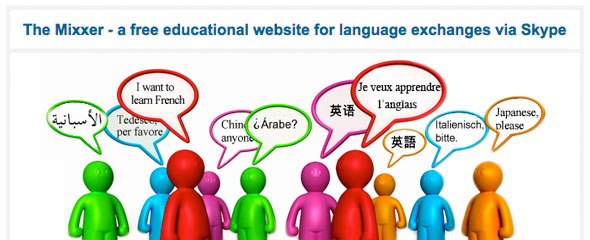 Learning Thai with Skype language exchange partners…
For the past two weeks I've been writing about Skype and learning Thai. How to learn Thai via Skype was a brief introduction. I then interviewed my Thai Skype Teacher, Khun Narisa Naropakorn to share how she teaches Thai via Skype. Thai language school Study Thai Online graced us with a guest post: Study Thai Online via Skype. And I even got into the act with My Skype Thai Language Learning Experience. On Monday, I went in search of Skype Teachers and Schools.
As I have no experience with language exchange partners, I went to Todd Bryant, who manages one of the top language exchange communities around: Mixxer. It was Todd who came up with the idea for a Skype language community during a collaboration between himself and another academic, Professor Akiko Meguro.
Todd Bryant from Mixxer, the Language Exchange Community…
Todd, as a Foreign Language Technologist at Dickinson College, what does your job entail?
I support any technology that would help the professors of foreign languages in the class. Many of our classes do Skype language exchanges. I maintain the Mixxer, update our computer labs, or organize the language exchange events for our classes. They also use a lot of social software for collaborative writing and podcasts. I give workshops on the topic and help maintain the college blog and wiki.
How do language exchange sites work?
They're very simple. Everyone registers and specifies the language(s) they are able to teach (their native language), and the language(s) they would like to learn. They then do a search for a partner based on this criteria, so someone who speaks English and is learning Thai would do a search for Thai speakers learning English. The two people agree on a time to meet and spend half of the time in each language.
Is Mixxer set up differently than other language exchange communities?
The primary difference is that it is strictly an educational site. It's not like the international friend and dating sites. It also provides the ability for teachers to organize "events" for their students by inviting individual learners from the Mixxer to contact their students at a given time.
How can users get the most out of Mixxer?
The most important advice is to be active. It's helpful to have several partners, so send at least five people a message suggesting times to meet. Be sure to express your willingness to help them in the message as well.

Come prepared to the language exchange. Have some questions prepared in the target language to avoid long pauses in the conversation.

Remember that the other person isn't a teacher. You're going to still want to either be enrolled in a class or have a grammar book to give yourself some structure.
Some language exchange sites suggest that the users be at least intermediate level in their target language, but can beginners use the communities as well?
Our Japanese students start at the end of their first semester, when they are still very much beginners. For beginners, they need to prepare more before the exchange by writing down all of their questions and practicing the related vocabulary. It's more of an interview for them than an open ended conversation.
Is SecondLife usable for students of the Thai language?
I'm not a big fan of SecondLife. I've found the system unreliable, and there's no demarcation between users interested in learning and "griefers" or others there simply to make mischief.
Along the lines of language exchange sites utilizing Skype, what are the other online resources for students and language teachers? For instance, in a recent search I came across WiZiQ, which appears to be developed around the concept of virtual classrooms.
Those sites are set up pair teachers, which isn't what we're about. We focus more on open and free sites that are available to anyone. Honestly, there are so many. These are my notes on Open Content for a presentation: Notes
Teaching sites such as Mixxer and WiZiQ are gaining in popularity with online language learners. With your extensive interest in the subject, what do you see as the future of the online teaching industry?
I think we'll see more opportunities for language learners to be engaged within a larger community in all aspects of their learning. By being part of a community, all of their reading, writing, listening, and speaking activities can have a true practical communicative function. It may be that students become linked via the online presence of textbooks, through universities, or via websites such as the Mixxer. The challenge is to combine the grammar and content of a traditional textbook with activities and a community of language learners.
Todd Bryant
Foreign Language Liaison, Instructional Media Services, Dickinson College
Mixxer Language Exchange Community | Educational Tech Ideas
How to learn Thai via Skype, the series…
This post is part six of an eight part series.