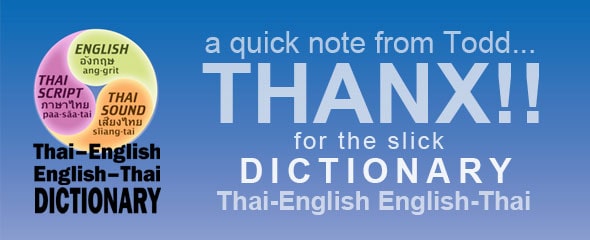 Thai-English English-Thai Software Dictionary…
In September Chris and Benjawan gifted readers at WLT with two of their new software dictionaries, so I announced them with a draw: Win a FREE Thai-English English-Thai Software Dictionary.
Amy Praphantanathorn (Expat Women in Thailand – no longer online) and Talen (Thailand Land of Smiles – no longer online) did the honours (thanks you two!)
The lucky winners of the dictionaries were Alok Singh and Todd Daniels. As Todd's email of thanks was so fun-fantastic, I just had to share it with everyone here.
From Todd…
Just a quick note: THANX!!…
That is one slick program, but seeing as it came from Benjawan I'd expect nothing less, lol..
I'm currently reading thru the English dictionary, and have got to "F" so far. I especially like the pronunciation guide she offers called 'Easy Thai'. Now I can replicate a Thai word pretty darned close without even having to click the sound file. In fact a Thai who was watching me said I was really close to the mark using this pronunciation guide. Now if I could only remember how the words are pronounced in real life I won't be saying things like "I'm gonna go change my 'tiger' before going out tonite."
I hafta say I am totally impressed with this, and used it almost exclusively to decipher some of the vocab I didn't know whilst I'm reading another of Andrew Biggs' books called เกรงใจแปลว่าอะไรเป็นภาษาอังกฤษ (Kraeng Jai translates into what in the English language?) Then again how many times am I gonna use words like ขนบธรรมเนียม or เกียรติ in everyday speech?
Really though, thanx a lot! I'd even go so far as to suggest anyone interested in learning Thai whose uses Benjawan's books to purchase this program. And for me, that's goin' out on a limb. 555+
Todd Daniels
Review: Thai Language Schools in Bangkok
Chris, Benjawan, and their Software Dictionary on WLT…
Backstage View into the Process of Creating a Thai Dictionary
If you want a dictionary of your own, you can get it here: Thai-English English-Thai Software Dictionary