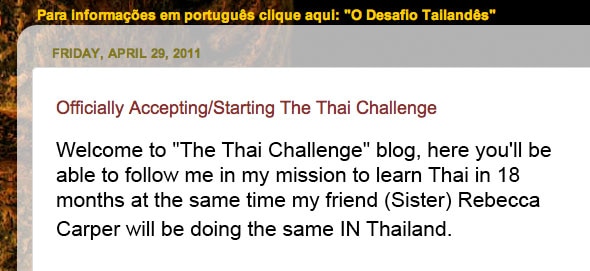 The Thai Challenge PLUS The 6 Week Challenge…
Once again Josh reminded me about the Read More or Die Challenge. But what really cranked me up was a mention of the 6 Week Language Challenge started by how-to-learn-any-language.com.
If anyone is interested in participating in a challenge to starting to learn a new language check out 6wc.learnlangs.com for more info.
The idea is to choose a language that you barely know and then commit yourself to 6 weeks. To compete in the challenge you tweet your hours of study. If you want to know more, the details are explained in the 6 Week Challenge How To.
As you can see from the current high score list, they are already a week plus into the challenge, But it's not too late if you wanted to jump in (and I don't believe it matters how new you are to your chosen language).
In second place (at this writing) is JNatAlkhimia, who is mostly studying Thai.
JNatAlkhimia's real name is Jeff Netto and in a few brief hours I've become attached to his twitter account, his YouTube account, and I'm waiting for new entries to his Thai blog. It almost seems like stalking him. But I'm not. I'm revved about his Thai studies because his studies are revving up mine.
On YouTube, polyglots have started talking about how they learn languages but I've never watched an avid language learner explain their steps to learn Thai. And I'm finding it way interesting to see how he tackles the process.
So far Jeff has three Thai YouTube vidoes online: First Day of The Thai Challenge – Resources and Approaches, Thai Challenge – First Steps Part 1, and Writing in Thai – Practice hints and Different Font Shapes.
It'd be redundant to go over each one (I'll leave you to view his videos) but I did want to share the resources he's using, while matching them with what I have here.
Alphabet: Chris Pirazzi's Consonant Flashcards
My review: Chris Pirazzi at Slice-of-thai.com
Phrase book: Lonely Planet's Thai Phrasebook
My review: Thai Language Phrase Books: A Mega Review
Dictionary: Pocket Thai Dictionary Thai-English English-Thai
I do have the pocket dictionary but I prefer to bounce between T2E (online) and the Talking Thai–English–Thai Dictionary (iPhone and software).
Additional resources: With an understanding of what he needs to absorb, Jeff compiled materials from the Internet. It's a shortcut for getting the Thai language and Thai culture into your head. And really, that's how WLT came about. But instead of printing what I found I put them here: FREE Thai language learning resources.
iPod: I wasn't able to catch all of the apps he's using except for Speak Thai. Again, I do have this resource on my iPhone but I'm way behind reviewing iPhone apps.
Thai lessons: For lessons with sound files Jeff is using the highly respected FSI Thai. The original materials are transliteration only so an additional resource is the Thai Language Wiki. The FSI materials have been painstakingly typed out in Thai script and the sound files are above each section. Note: It's still a work in progress. Transliteration needs to be added, phrases updated, and new sound files recorded and slotted in. But it's a great resource regardless.
Extras: He's using the Book of Mormon in Thai so it's no great leap to imagine that he's got a religious bend. So I'm thinking that Ben Crowder's 1000 Word List from the Bangkok Mission might be of interest to him. Ben used to have a Book of Remembrances in Thai online but it's not there anymore. Pity. But there is a Thai Script download that's useful no matter what your leanings are.
What more could Jeff be using? That's a tough one because there's so much to chose from. But if he's going for free he couldn't go far wrong with BYKI Thai (my review is here: Byki Thai Language Course). Oh, and since he needs to familiar himself with situational Thai, the AUA videos would be a help. And then there's TCU Open Courseware, and L-Lingo, and e-learning at Sriwittayapaknam, and and and…
Joining the Thai Challenge…
Learning a language is a long-time goal and often being accountable can be tedious. Depending on your personality, setting challenges such as this can give you a needed push. And while I won't join the 6 week twitter challenge I have decided to follow the basic idea with an Excel spreadsheet.
Jeff has his minutes divided out by: Writing Alphabet, Thai Linguistics, YouTube, TV, Vocabulary, Alphabet, Listening, Writing ABC's, Chat, Reading, Conversation, FSI, Phonology, Radio, Business (?), Grammar, Dialog, and Survival phrases.
My subjects will be different. I'll wing it at first and then tweak to suit my own learning style, and once I'm on a roll, I'll report back.
The Thai Challenge AND The 6 Week Challenge…
Blog: The Thai Challenge
Twitter: @JNatAlkhimia
YouTube channel: JNatAlkhimia
6 Week Challenge Competing scores
6 Week Challenge: How to
6 Week Challenge: Detailed listing for JNatAlkhimia