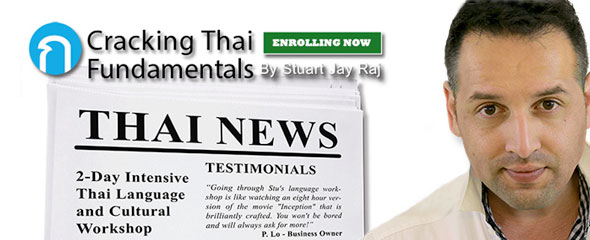 Cracking Thai Fundamentals Workshop…
I started Cracking Thai Fundamentals in 2000 for the Foreign Correspondent's Club of Thailand to help journalists hit the ground running. At the time, the course was developed on the fly to try and give as much information about Thai that wasn't available in your average 'learn Thai' books as possible in a short period of time.
Over the years, I have honed the course. In the original course, memory of the consonant classes, tone rules and other 'rules' were conveyed purely by mnemonics, vivid imagery and other memory pegging techniques. While these techniques are still used in the new revised CTF, I have given it a much more solid linguistic backbone. Participants start to gain an intimate understanding linguistically about what their mouths, tongues and lungs are doing, how to alter them to make them more Thai and then linking those things into the rules of Thai using imagery, emotions and muscle memory. The result, people go out of the class after two days not only knowing the rules but understanding why they are. More importantly, they learn techniques to let those rules run in the background and create a 24/7 environment around them that teaches them Thai rather than just setting a 'one hour per day' learning regime that many people tend to do.
The online version of CTF will be the first online course to be released publicly on Jcademy.com around April, shortly followed by Chinese, Indonesian, Vietnamese and with plans for Arabic, Spanish, Farsi and Burmese.
I will be running another face to face two day workshop in Bangkok on the 30-31 March, 2013 and there is the possibility of running a Songkran two Day workshop in Chiangmai. For more information, you can make an enquiry via Stu Jay Raj: Cracking Thai Fundamentals