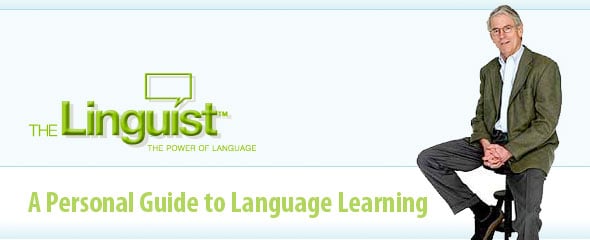 Review: The Linguist – How to learn a language…
I know who Steve Kaufmann is. Sort of. A couple of times a year I stop by his blog, The Linguist, to see what he's up to. But until lately I didn't know the details of his method of choice.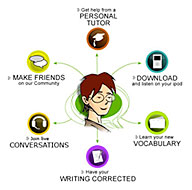 The reason? Because LingQ is not offering Thai (waving at Steve). LingQ does have English, French, Spanish, Japanese, Italian, German, Russian, Chinese, Portuguese and Swedish (perhaps Thai is in the wings).
If you don't know who Steve Kaufmann is… in a nutshell, Steve is an accomplished linguist with (I believe) eight languages under his belt. He authors the blog, The Linguist on Languages, and is the driving power behind a popular language learning community: LingQ. And if you are into YouTube, he has a channel there too: Lingosteve.
When researching for a post on language learning styles (it's more complicated than I thought), I purchased his book, The Linguist: A personal guide to language learning (no, I did not pay the quoted price). Busy as usual, I filed the book away.
On a weekend when struggling with a crappy internet connection – I wasn't sure if the lack of internet meant my temperamental Belkin modem was playing up, or Thaksin losing half his money was a contributing factor (yeah, I'm paranoid), or both – I gave up trying to reconnect and read Steve's book instead.
The first subject in his book is A Language Adventure, which describes Steve's linguistic adventures. Next up is The Attitude of a Linguist (aptly named). But the real reason I purchased his book was this section: How to Learn Languages.
What I found was a pleasant surprise as his method suits me quite well. Odd, as I'd (wrongly) assumed that Steve was an all natural guy. And I don't do all natural.
Steve's method is similar (but not quite) to Luca's. If you are unaware of Luca's method, then please read through these posts:
Steve Kaufmann's method of learning languages…
Steve says that before you try to communicate in your target language, you should spend time on listening, repeating out loud, learning words and phrases, reading, writing, and practicing proper pronunciation.
To express yourself in a new language you must first absorb the language by listening, reading and learning vocabulary… These activities will always account for about three quarters of your effort while you are working to achieve a basic level of fluency. But from the beginning you also have to work on your skills of expression: pronunciation, writing and conversation. Developing these skills requires a conscious commitment to regular and patient practice.
Some learners are hands on (they don't want to waste time studying; they need to jump in and start talking). But I quite enjoy learning languages using the proposed methods of polyglots Luca and Steve. To get a word or phrase into my head I need the basics: Listen, read (Thai script), repeat out loud, and write or type from both reading and listing.
Curious, I compared the basics of Luca and Steve's method's side by side.
Steve Kaufmann's method:
Listen repeatedly to material within your basic range of comprehension, concentrating on pronunciation.
Repeat individual words and phrases out loud, both during and after listening.
Read sentences and paragraphs out loud, first very slowly and then more quickly, and always in a loud voice.
Record your own pronunciation and compare it to a native speaker.
Write using the phrases you have mastered.
Luca Lampariello's method:
Listen to audio files.
Repeat audio files.
Read the materials with and without the audio files.
Translate the Thai dialogue into English.
Translate your English translation into Thai (transliteration or script).
For me, the strength of Luca's method is translating the dialogue into English, and then translating it back into Thai. I've noticed that by following Luca's method, the dialogues are burned into my brain. Without a lot of work, it also improves my writing, grammar, and spelling. And except for translating back and forth, Steve's method follows a similar path.
When it comes time to communicate, Steve states the obvious: Build your conversations around the phrases you have learned. Sometimes I really do forget that it's that simple.
Another bit of advice Steve shares is to create intensity with language learning. And this is where Steve's method differs from Luca's. Luca suggests going for an hour a day to start. And then later, paring that hour down to a half hour. Steve wants us to go full force into language learning.
Learning a new language is most enjoyable when you are learning quickly, which requires intensity… You need to overwork the language processing capability of your brain by constant and frequent repetition during a period of intense learning. This period may vary from three months to twelve months depending on your starting point and your goals. During this period you must maintain a sustained commitment to your task.
Both Luca's and Steve's ideas work, so it's up to personal learning preferences and available time. For this suggestion, I do believe I'll take Steve's advice and ramp up my study time.
The rest of his book touches on tools to use, and setting clear goals. The book finishes with a pep talk using Mike Weir (winner of the Masters Golf Tournament) as an example.
All in all, if Steve's LingQ community included Thai, I would seriously consider using it as a viable tool.
To see for yourself, stop by The Linguist, and/or check out his language community at LingQ. Also, you can read two of Steve's books for free. The Way of the Linguist: A Language Learning Odyssey is online. And you can download The Linguist on Languages via his sidebar.