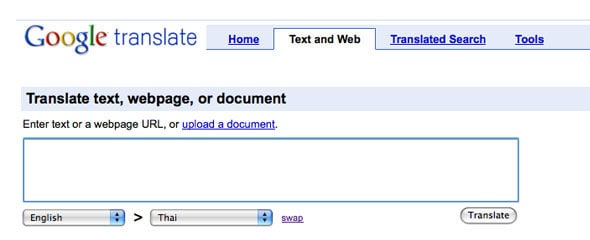 Google Translate, I challenge you…
In my posts, Google Translates Documents and Email Too and Thai Google Translate: Will Crowdsourcing Work, we got to discussing how Google Translate takes online translation beyond Babel Fish by allowing users to correct bad translations.
In the comments, Jeff Gray put this bug in my ear:
…the sheer volume of people adding useful stuff to Wikipedia makes it immensely useful. Wikipedia is also inherently self correcting, because if someone writes rubbish, it will be corrected by others.

In the same way, having millions of users making minor improvements to the translation system does something that any single company could never do with internal resources only. It might be chaotic, but the sheer scale is unbeatable.

Time will tell, but the approach they've taken is potentially a very effective one.
Well, the time is now. From now until a year from now.
Yesterday, Aaron Handel was featured in WLTs new Interviewing Successful Thai Language Learners section.
Today, Aaron agreed to let me use a handful of his Thai sentences from his twitter account for a Google Translate Challenge.
As you can see, the results are interesting.
Be careful! There is swine flu!
Aaron Hadel: ระวังมีไข้หวัดหมู
Google: ระวัง! มีไข้สุกร!
I have swine flu already, thanks!
Aaron Hadel: ฉันมีไข้หวัดหมูแล้วค่ะ
Google: ฉันมีสุกรไข้หวัดใหญ่แล้วขอบคุณ!
I don't know! Why do you ask?
Aaron Hadel: ไม่รู้ ซิถามทำไม
Google: ฉันไม่ทราบ!ทำไมเจ้าถาม?
Did you eat yet?
Aaron Hadel: กินข้าวแล้วหรือยัง
Google: คุณกินยัง?
Oh no! You're a liar!
Aaron Hadel: ตายแล้วคุณเป็นคนโกหก
Google: แย่ละ!คุณเป็นคนพูดเท็จ!
I don't want to see your face again.
Aaron Hadel: ฉันไม่อยากเห็นหน้าของคุณอีกแล้ว
Google: ฉันไม่ต้องการดูหน้าของคุณอีกครั้ง
He is busy lighting a mosquito coil.
Aaron Hadel: เขายุ่งจุดยากันยุง
Google: พระองค์คือยุ่งแสงสว่างที่ยุงม้วน
Don't put any fish sauce on the rice. It stinks!
Aaron Hadel: อย่าใส่น้ำปลาบนข้าวมันเหม็น
Google: โปรดอย่าวางใดน้ำปลาใน ข้าว. มัน stinks!
Let the Google Translate Challenge begin!
As a sort of a control (so it does not become an issue) I have an equal number of Aaron's sentences paired with Google Translate just waiting to go live next year.
So in one year I will put the sentences through Google Translate a second time, just to see if crowdsourcing translations really does work.