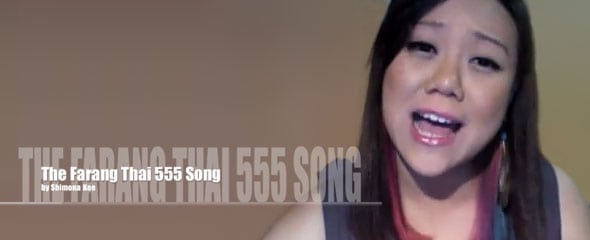 The Farang Thai Song (aka The 5552)!…
Back in March there was that really cute YouTube video by Maggie Rosenberg, I Don't Speak Thai But I Try. And now we have the pleasure of … [drum roll] … The Farang Thai Song, by Shimona Kee.
From Shimona: "Missing Thailand. SO. I wrote a song about learning to SPEAK THAI!"
If you are looking for a good resource to learn Thai online, check out Learn Thai from a White Guy. Upon entering your email, you'll get five free lessons to help you start learning to read Thai.
What talent! Wasn't that great?
Thai vocabulary…
In order of appearance, here's the Thai vocabulary from the lyrics:
spicy: เผ็ด /pèt/
cannot: ไม่ได้ /mâi dâai/
how much: เท่าไหร่ /tâo rài/
expensive: แพง /paeng/
reduce: ลด /lót/
can?: ได้ไหม /dâai măi/
it's ok: ไม่เป็นไร /mâi bpen rai/
one: หนึ่ง /nèung/
two: สอง /sŏng/
three: สาม /săam/
four: สี่ /sèe/
five: ห้า /hâa/
take it easy: ใจเย็นเย็น /jai yen yen/
speak: พูด /pôot/
Thai: ไทย /tai/
little bit: นิดหน่อย /nít nòi/
no: ไม่ /mâi/
understand: เข้าใจ /kâo jai/
be happy: สบาย /sà-baai/
eat: กินข้าว /gin kâao/
or: หรือ /rĕu/
still, yet: ยัง /yang/
fun: สนุก /sà-nùk/
what: อะไร /a-rai/
why: ทำไม /tam-mai/
toilet: ห้องน้ำ /hông náam/
where is: ที่ไหน /têe năi/
Were you wondering why it's called "The Farang Thai Song (aka The 5552)?" Well, 555 in Thai (ห้า ห้า ห้า) is /hâa hâa hâa/. And 2 in Thai (สอง), is pronounced /sŏng/, making it the "Ha Ha Ha Song". Clever.
Shimona Kee on the internet…
The sweet Shimona can be found online at the following locations:
YouTube Channel: simplyshimona
Twitter: @simplyshimona

Advertisement