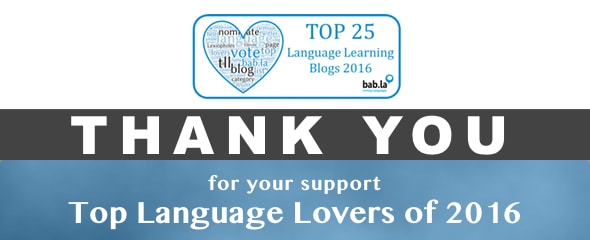 This year WLT came 12th in the Top 25 Language Learning Blogs of 2016. The placement isn't as sweet as last year (7th) but as the competition continues to be stiff I'm totally chuffed (and will be sipping the bubbly tonight).
As always, my thanks go to the team at bab.la and Lexiophiles for arranging the competition. Running a competition of this calibre is hard work so I do wonder if they knew what they were getting into all those years ago.
Thanks also go to my friends who showed their support with tweets and FB likes and comments, and to everyone who voted. It means a lot to me.
Thank you: Guest Writers…
I also want to thank WLT's guest writers who make WLT what it is.
The current Guest Writers are: Sean Harley (Thai Cat Cartoons), Hugh Leong (Thai Language Thai Culture), Yuki Tachaya (Colloquial Thai), Tod Daniels (Thai Language Schools), and Andrej (Language Learning Methods).
The up and coming Guest Writers to watch are: Arthit Juyaso (Thai-Time), Kru Jiab (Feeling Like a Thai), and Wannaporn Muangkham (65 Useful Thai Phrases You Won't Find in a Travel Phrasebook
).
There are many more excellent writers on WLT – please check them out in the Guest Writers section.
With such a quality lineup WLT is guaranteed to offer posts suitable for whatever level of Thai you are at. Enjoy!
Thank you: Sponsors for WLT's Language Lovers Giveaway…
WLT's SEVEN Weeks of FREE Thai Giveaways to celebrate eight years online isn't over but what better time to give thanks to the sponsors of the giveaway. Below are the sponsors with their prizes.
PickupThai Podcast (24th-29th May): SIX winners will get subscriptions to the new Creamy Coconut course for beginners (One winner – all 30 lessons. Two winners – 15 lessons. Three winners – 10 lessons).
Duke Language School (31st May-5th June): TWO 60 hour Journey One group lessons with course books. This is not a taster, the winners go straight through the course to the end.
Bingo-Lingo (7th-12th June): FOUR copies of Bingo's detailed book and CD, Read Thai in 10 Days.
Learn Thai Style (14th-19th June): FOUR Speak Thai Course winners (includes a pre-release version of Speak Thai Course with Thai script only – no transliteration) will receive a lifetime access to over 40 hours of audio and video materials, over 300 worksheets (with or without transliteration), online quizzes, self study materials, learn Thai blog access, as well as access to over 700 trained teachers (UK, USA, Singapore, Thailand and Skype).
Learn Thai from a White Guy (21st-26th June): TWO courses of Learn to Read Thai in 2 Weeks and TWO courses of The Need to Know Sentence Pack.
Learn Thai Podcast (5th-10th July): THREE subscriptions to Learn to speak, read, write Thai via LTP's massive Thai course that has over 800 video, audio and text lessons.
Paiboon Publishing and Word in the Hand (12th-17th July): FOUR EACH of the newly updated Talking Thai-Eng-Thai Dictionary apps (your choice of iOS or Android).
We are now on week three, sponsored by Arthit Juyaso (Bingo-Lingo). Thanks all!
Thank you: The SET Foundation…
As I mentioned in the first post, Vote THAI and WIN! | 2016: Top 100 Language Lovers Competition, Peter Robinson (director of the SET Foundation) has asked us for help. Due to various issues out of their control, this year SET is struggling and would appreciate any assistance you can give.
WLT doesn't accept payment for ads – ad money goes direct to to the SET Foundation. But to help further, I decided to use this competition to educate readers about the SET Foundation (it really is a fantastic charity – rare these days).
In the 2016 academic year, SET plans to award 1,500 scholarships with a value of approximately 21.10 M Bt. An additional 1,250 welfare grants with a value of approximately 4.60 M Bt will also be awarded.
To donate to the SET Foundation, just fill out the Paypal button at the top right of their site. Thank you. Seriously.