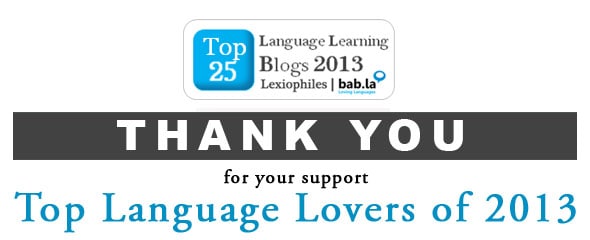 Thank You for Voting: Top 25 Language Lovers of 2013…
This year WLT came 14th in the Top 25 Language Learning Blogs of 2013. Not too shabby, considering all the wonderful blogs entered in the competition this year. With many upping their game, I figured it was going to be tough – and it was!
A huge thanks from me goes to the hard-working team at bab.la and Lexiophiles for arranging this quality competition, to all my friends who showed their support with tweets and FB likes and comments, and to everyone who voted.
I also want to thank WLT's guest writers, especially Hugh and Tod. Their posts are what makes WLT what it is, a true Thai language blog.
Hugh Leong writes the popular Thai Language Thai Culture. Hugh can also be found at Retire 2 Thailand and Retire 2 Thailand: Blog.
Tod Daniels reviews Thai Language Schools in Bangkok. His new section, Tod's Thai has been a hit too.
This year Hugh and I are teaming up to give you an exciting new series: Using High Frequency Thai Vocabulary. Other Thai speakers are being invited to write select posts in the series as well, so please stay tuned!