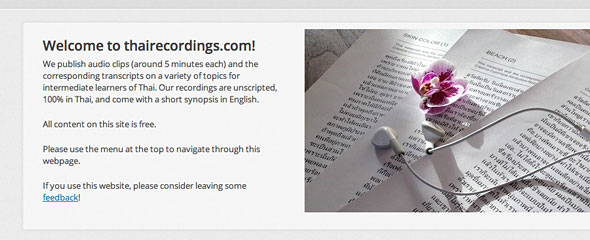 A New Audio Resource…
I've been learning Thai for a bit more than three years now, some of you might remember my guest post here on WLT. I've been trying to learn Thai without using translation, text-book study or explicit vocabulary work, and I'm quite happy with the results so far. The resource I want to present in this post, however, is compatible with any learning style.
Thairecordings.com is a new project of mine, one that I hope to grow and maintain for some time into the future. Similar recordings to the ones I publish were quite useful in my own learning of Thai, and I thought, why not set up a website and see whether others like the idea. The website went live in July 2012, and as of now (Aug 2012) the content is still limited, but I hope to add to it on a regular basis.
Thairecordings.com is a free website for intermediate learners who already understand spoken Thai and are able to read. It is basically an archive of audio clips and corresponding transcripts. The audio clips are around 5 minutes each and contain unscripted, natural speech, 100% in Thai. Each recording has a topic, and there are usually 2-3 recordings per topic. Each recording comes with a short synopsis in English. The topics are intended to be accessible and useful, or at least interesting, for intermediate learners, and cover a wide range of issues, for example:
going to the dentist
ghosts
having diarrhea, or
beach vacation.
The recordings are not designed to teach anything in particular, and they don't systematically cover vocabulary related to the respective topic. The intention is rather to provide examples of story telling and talking about experiences. Nonetheless, the vocabulary and structures covered are quite varied and should be useful to intermediate learners. New recordings are added on a regular basis.
The transcripts are done after recording the audio and are (so far) pretty accurate. They contain all spoken function words, which are rarely found in written texts.
How to use the recordings…
The recordings can be used in various ways: you can just listen to the recordings, maybe repeatedly, trying to understand what's going on. You can practice guessing at unknown words. You can listen with the goal to pick up specific vocabulary or ways to say things, or you can use the recordings to supplement other Thai learning activities on those same topics. If it helps, you can read the transcripts before, during or after listening to the recordings, either assisting or verifying your comprehension. You can also use the audio and the transcripts for shadowing, or for dictation practice. Finally, you can upload the material to LWT (a reading-listening software).
All material is free and subject to a Creative Commons license. I hope the material proves useful to some learners, and I would be happy to get feedback on whether and how it's used, or what I could do to make it more useful.
Andrej
thairecordings.com