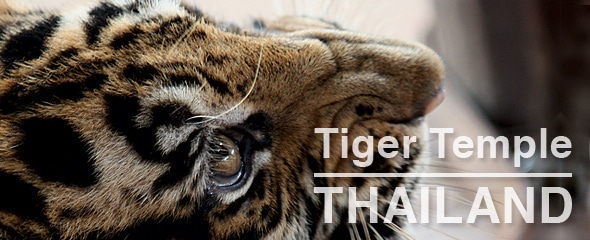 Tiger Temple Sues Conservationists Over Abuse Allegations…
Thailand's Tiger Temple has long been involved in controversy, and the complaints are many:
Drugging the tigers.
Abusing the tigers.
Selling off older tigers.
Putting visitors in harms way.
Breeding tigers unprofessionally.
The complaints go on and on…
I've been to the Tiger Temple in Kanchanaburi twice. Both times were instigated by visitors to the Kingdom who were excited about getting their photo taken with real tigers. And I have to admit, I was excited my first time too. On my earlier visit years ago, I was convinced that the tigers were drugged. But on a recent trip, in no way were the tigers under the influence.
There are many sites on the internet going against the Tiger Temple. Some of the charges are quite severe, while others seem to come from people who don't know anything about tigers (who knows, there might be a lot of that going around, on both sides).
And now we have a court case to follow…
Tiger Temple Sues Conservationists Over Abuse Allegations: Edwin Wiek, founder and director of Wildlife Friends of Thailand, a wildlife rescue center near Hua Hin, has been charged along with two other conservationists over remarks in an April 2009 article published in the "Thai Post," a daily Thai-language newspaper. In the report, accusations were made concerning illegal possession of and trade in tigers at the temple, and abuse of the animals.
WFFT – Press Release: Three local conservationists are being handed over by police to court on Wednesday the 3rd of February at 10:00AM at the provincial court of Kanchanaburi Province. The three are being accused of defamation by the infamous Tiger Temple after a news article in the Thai Post newspaper in April 2009 where accusation were made about animal torture, illegal wildlife trade and possession taking place at the tiger temple. All three conservationists and animal welfare experts were quoted in this article as having a derogatory opinion of the tiger temple.
Is the abuse real? Or no? Are they selling tigers to China for medicinal purposes? Or not?
I have a long video interview with Dr. Somchai from the Tiger Temple in the wings. I wasn't sure about posting the videos as they do tend to ramble on. Also, in some places they are difficult to decipher so I felt driven to transcribe what I could. Please stay tuned.
The Tiger Temple on the internet…
The majority of the sites lean heavily towards the negative, but not all:
And on the negative side (but there are many more):
I'll add more as I find them…
Note: I did not see any abuse of the tigers on my second trip, but neither am I an expert on animal welfare. And as I am not in the know, last year I emailed those in the industry to get their opinions on the situation. None agreed to answer my questions, but Dr. Somchai did answer questions from my friend David: Tiger Temple Interview: Dr Somchai.