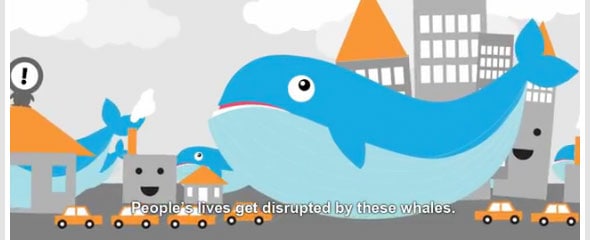 Thailand has 50 million blue whales flooding Bangkok…
Obviously, there are not 50 million blue whales flooding Bangkok. Not even one. And the flood is not only about Bangkok. But as bonkers as 50 million whales flooding Bangkok sounds, the contradicting flood information bombarding us daily seems just as wacky.
Anyway. This post is for those of you who have a life. Those who have not spent the past month plus glued to all things Thai floods via twitter, Facebook, the Bangkok Post and the Nation. Because if you had, then you'd already be blue whaled out.
And Oh! Before I forget to mention… I have selfish motives for a blue whale post too. In six months time I don't want to start nattering on about 50 million blue whales stuck in Bangkok traffic only to have you go all weird on me. You know?
Thailand's flood + 50 million blue whales…
The Bangkok Post explains it best in their article Thai floods: Think of 50 million whales.
A series of short animations explaining the current flood situation using simple language and featuring a cute pod of 50 million blue whales has become a big hit on youtube.

The man who came up with idea for the animations is Kriangkrai Vachiratamtorn, the founder of the animators' group Roo Su Flood (Know, Fight, Flood).

He said he was frustrated with the generally unhelpful and confusing information and misinformation being released to the public by the government and other agencies.

"We are not only being flooded by floodwaters, but also by information," said Mr Kriangkrai.
The videos, five so far (edit: now six), are in Thai with English subtitles. They are great entertainment for Thai students of all levels. Or your mother even. But maybe not your kids (I'll give you a few minutes to think on that one).
Thailand flooding: Episode one…
‪Thailand flooding: Episode two‬…
Thailand flooding: Episode three…
Thailand flooding: Episode four‬…
Thailand flooding: Episode five…
Thailand flooding: Episode six…
Other stuff on the Thai floods of 2011…
Some are predicting that the main flood crisis will be over in ten days. The first stage anyway. I couldn't say. Maybe. Maybe not. But the flood posts on WLT will march on for the duration. Ok, 'straggle on' might be a better description…
Ayutthaya Underwater: Bangkok Now Bracing for Floods
Bangkok is STILL Bracing for the Thai Floods. Barely.
Bangkok Flood Info: Preparing for Floods in Bangkok
Hugh Leong has two handy posts focusing on Thai flooding vocabulary and phrases (thanks Hugh!)
Thai Language Thai Culture: Primer on Thai Disaster Words
Thai Language Thai Culture: Basic Thai Flood Phrases
And here are a few other RooSuFlood links…
Facebook: RooSuFlood
YouTube: RooSuFlood
Nation: Click for clarity
PS: Some Thai kids are having blue whale nightmares so please tread careful as you go…