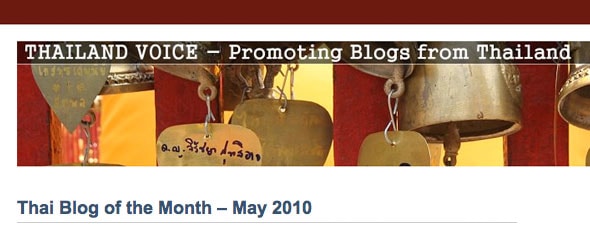 WLT is Thai blog of the month at Thailand Voice…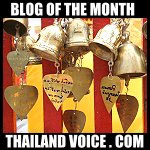 Paknam Web hosts a massive amount of Thai learning resources, so it is no stranger to me. Just cruise through my post, Learn Thai on the Paknam Web Network, to see what I mean.
And Thailand Voice just happens to be a part of the Paknam Network: We are on the Internet every day looking for quality articles and blogs about Thailand. We will post extracts from new stories twice a day.
Each month Richard Barrow (the driving force behind PWN) selects a blog with for a 'Thai Blog of the Month' award. Wise Kwai was the first recipient of the award. In his gracious post, he explains how Thailand Voice works:
Generated by the Thai Blog Search engine (site no longer online), Thailand Voice presents the various posts in clean and clear excerpts with thumbnail images and links to the full posts on their respective host websites. It's beautiful the way it works. Subscribe to the RSS feed and reading about Thailand is a snap.
That was April. And now May is my turn:
The 'Thailand Voice Award' for "Blog of the Month" goes to Catherine Wentworth's Women Learning Thai… and some men too 😉 for her contribution to learners of the Thai language by providing them with numerous resources and moral support over the past few years.
Thanks Richard 🙂
Ah, while I have you here… Richard's latest blog is Using an iPhone in Thailand (site no longer online). I have an iPhone series in the wings (written, just waiting), so you will be hearing more about Richard's new venture then.
And now a few more words…
May has turned into a promotional month for WLT. I didn't plan it, it just happened. First, there is the award from Thailand Voice. And coming next is the run up to Lexiophiles Top 100 Language Blogs for 2010.
Last year WLT was included in Lexiophiles Top 100 Language Blogs for 2009. WLT placed in the top 100, but only just: Final Results: Top 100 Language Blogs 2009. As I was involved last year, WLT was automatically included for 2010. The voting starts on May 12th, so I'll give you a nudge IF I make it to the final round.
And there is just one more thing… I've been advised to create a Facebook account for WLT. You can see it at Women Learning Thai… and some men too 😉. It's handy as blog posts suck into FB, then automatically appear on my twitter account. Following directions, I've also added a FB Friends banner to my sidebar (now slowing making its way further up). If you'd like to do whatever it is FB friends do, please join WLT too.