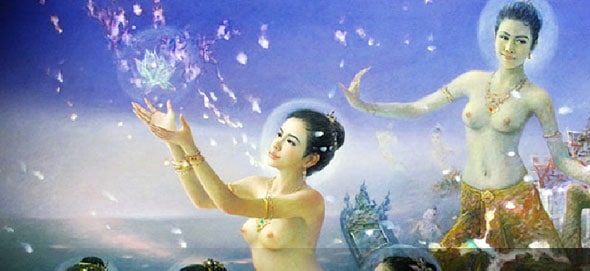 Thailand's bare breasted women…
I like boobs. And as I have a comfy pair of my own, I'm fairly confident in saying that. But this weekend Thailand went all aflutter when, like Songkrans of yore, three Thai ladies bared their breasts during the festivities on Silom Road.
Within a short time a video was uploaded to YouTube and that's when it all went a twitter.
Nation: Topless teenage dancers get dressing down for 'distorting Songkran values'

Bangrak District Office director Surakiat Limcharern yesterday lodged a complaint with police over topless female Songkran revellers whose sexy dancing near Silom Road was recorded and posted on the Internet.
National Police Commissioner General Wichien Pojphosri vowed action against both the topless revellers and their cheering crowds. Culture Minister Nipit Intarasombat, meanwhile, wanted action taken against those lending loudspeakers and stereo systems for the topless dancing.
Video clips showing the topless Songkran revellers were posted on the Internet on Saturday, provoking a public outcry.
There was a public outcry. For sure. The twitter crowd immediately posted a link to the Thai Ministry of Culture's website complete with, you got it BOOBS! Lovely boobs (the bare breasts shown in the banner above are still visible via flash animation).
Asap, the Thai Ministry of Culture replaced the bare breasted ladies with a more sedate banner (below). I'm told that it still has boobs, just not as in-your-face.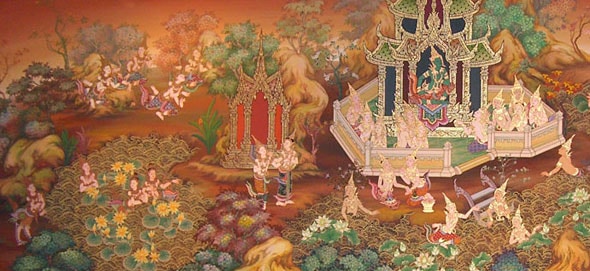 And at that, the twitter crowd went totally bonkers. Facebook got into the hilarity of it too.
Now, I'm not going to comment on the right or wrong of the bare breasted lasses on Silom. For one, I don't know the details of the present nudity laws in Thailand (I recently saw a guy nearby Paragon totally pantless and no one made a move). And two, while I was a bit of a wild child myself back in the day, this is Thailand, not the west. So, same same but different? Not?
But looking back in Thailand's recent history, before Christian ways came into it, both men and women in Thailand went topless.
Wikipedia: Toplessness Thai Cultural Mandates issued in 1939 and Western writing prove Thai women would go clothed fully or topless in public before the westernization of dress.

In the late 19th century the influence of missionaries and modernization under King Chulalongkorn encouraged local women to wear blouses to cover their breasts.

Until the early 20th century, women from northern Thailand wore a long tube-skirt (Pha-Sin), tied high above their waist and below their breasts, which were uncovered.
And even today, the walls of Thai wats are graced with many topless Thai women, all dancing away. Beautiful Thai women, just like those shown on the banner from the Thai Ministry of Culture's website.
Now, it might not be the modern Thailand of today, but at one point it was an actual part of being Thai. It was a reality.
Anyway, I just wanted to have my very brief say about keeping Thai culture real. And to please ask Thailand to put the bare breasted ladies of Songkran back on the Thai Ministry of Culture's website where they belong. That's all.