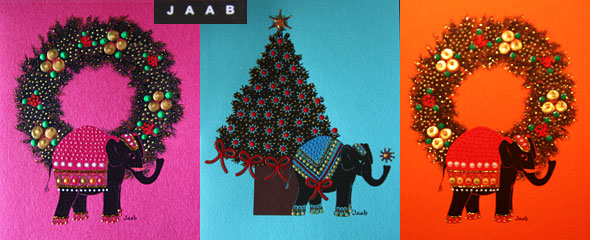 Shopping for Xmas cards in Thailand…
There isn't much choice for holiday cards in Thailand. Not if you want to keep away from Hallmarks!
There are some fairly dull cards created with photos of Thai murals or such. And you can sometimes find quite ok Thai cards, but not always. This year's pickings were noticeably thinner than the last.
Handmade cards by Jaab are another solution to your Thai Xmas card dilemma.
They are not cheap, but a percentage of the proceeds go to the Breast Cancer Outreach Project, so there is that. And being of Thai Mulberry paper, they do have a lovely texture to them.
Jaab is Thai slang for cool.
Thai-language.com: จ๊าบ (jáap) [an informal interjection and transient Thai slang used to express interest or excitement] "(You look) sharp (or spiffy or spruce)!"; "Cool!" From the English adjective sharp.
I chose the two sets shown above, so if you are getting Xmas card from me – hi guys! – no surprises for you this year 😉
Anyway, you have just enough time to order sets of your own. Or, just drop by Siam Paragon in Bangkok. The cards can be found next to the Gourmet Market.