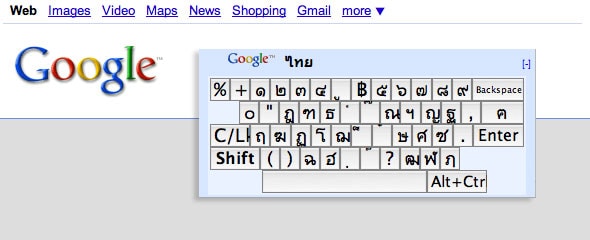 Google goes virtual with Thai keyboards…
NOTE: The keyboard is no longer working. When I get a spare moment I'll look into the fix (if there even is one).
The Thai keyboard is all thanks to the coders at Google, with their AJAX Language API.
As you can see, they have all sorts of programming bits on offer: Translation, transliteration, language detection and more.
And if you scroll way down at the bottom of that page, you'll see this one: AJAX Language API for Virtual Keyboard.
And that's what I've included on WLT's resources: Thai Keyboard Input. Not because I need a Thai keyboard (my Mac comes with Thai keys) but because I wanted to see how it works.
Go ahead and play around with it. You'll see it works just fine (well, it did … but doesn't now).
When I sent Google's API page over to Jay saying "I want one of these too!", she asked "where, in your comments?"
Now, that's a thought. Because apparently, you can code a keyboard into a blog's comment area for visitors who don't have a Thai keyboard handy.
But it sort of freaked me out as it then meant that people might feel obligated to start typing all sorts of stuff in the comments. In Thai. Or faux Thai even.
And I don't believe this site is ready for that.
More free Thai keyboards…
Article on WLT: Thai Typing Tutors: aTypeTrainer4Mac.
Mister Kwai – Virtual Thai Keyboard
Note: check out the Thai-English-Thai dictionary (editable), along with the quizz generator (uses the dictionary).
Typing in Thai advice…
Thai Typing – The Key to A Hidden World
Tips on typing in Thai from Stuart Jay Raj.
These free Thai keyboard resources can be found at Learn Thai for FREE. Along with a zillion other free Thai resources.