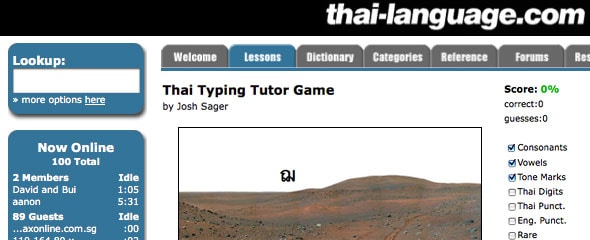 Have I got a Thai typing tutor game for you…
While I was adding thai-language.com's logo to the top of WLT (glance up and over to your right) Glenn was happily showing me his new toy developed with Josh Sager (Let's Talk Thai): TLC's Thai Typing Tutor Game.
Waiting for the countdown to 2010, I contacted Josh to get instructions.
Start the game (obviously).
The character will fall from the top a la Space Invaders.
You have to type the appropriate keyboard key that matches the character; your score is on the right, determined by how many times you hit the right or wrong keys.
If you get the character WRONG, the correct key suggestion will show up in the bottom right corner of the game; that's what you use to learn when you make a mistake. Just be sure to pay attention to what is capitalized and not, since obviously the SHIFT key on the keyboard will produce different Thai characters.
If the character makes it all the way to the bottom without getting correctly entered, the game will pause.
To start the game again, just hit the "continue" button.
If you are bad (but don't know it yet), click the box next to adapt. That way, the speed will slow down to accommodate your skill level.
And if you are really, really bad, you can even pause the Thai character partway down. How great is that?