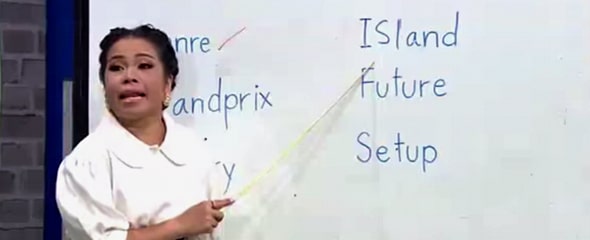 Thai Teachers teaching Thai twisted English…
There's a hilarious video about Thais teaching English to Thais being shared around Facebook. I got it from Maarten Tummers (isn't he talented?) who got it from Kruu Jiab (Learn Thai Style). I don't know where Kruu Jiab got it from, but it was created by the new (to me) comedians at WorkPointOfficial.
This Thai way of teaching English to Thais is oh so common in Thailand. I too have been on a weird receiving end of discussions about what's right or not as far as English pronunciation goes (tedious). But when it comes to grammar, I've been known to bow out because my Thai friends are sometimes better informed about English grammar than I am. I do know what sounds right (but it sometimes isn't).
If you are looking for a good resource to learn Thai online, check out Learn Thai from a White Guy. Upon entering your email, you'll get five free lessons to help you start learning to read Thai.
Expats with kids in the Thai school system will recognise this scenario. Teachers in Thailand demand respect no matter what. And from what I've read, expat parents are having to advise their kids to ignore incorrect teaching the best they can. It's either that, or receive bad grades from teachers who know best. Difficult.

Advertisement