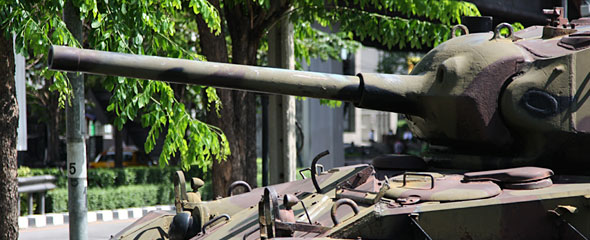 Thai Protests 2013-2014: Who to Follow on Twitter…
Yes, the Thai protests are STILL going on. I was hoping they'd be over by now, but oh no. Seriously? I hope this protest is finished before I complete writing this post! Anyway… similar to Staying Safe in Thailand: Streetwise Advice + Twitter, I wanted to share a bunch of twitter people for you to follow in this latest Thai kerfluffle.
If you only have time for one twitter account it'd have to be Richard Barrow's.
Richard Barrow: (Travel blogger): @RichardBarrow
And here's Richard's Bangkok Dangerous Google Map
This morning Richard made a request: if you are running around Bangkok and see any action, do tweet your photos and news to his account. Please do (the more eyes and ears sharing, the better).
And now to the rest of the twitter peeps…
แก้วมาลา Kaewmala (Thai language, culture & politics): @Thai_Talk
Aim_The Nation (Nation): Aim_The Nation (no longer online)
Alessandro Ursic (Freelance journalist): @aleursic
Anasuya (Channel NewsAsia): @Anasuya
Andrew Marshall (Reuters): @Journotopia
Aubrey Belford (Reuters): @AubreyBelford
Bangkok Pundit (Asian Correspondent): @bangkokpundit
Florian Witulski (asia-pacific correspondent): @vaitor
Jason Szep (Reuters): @jasonszep
Jonathan Head (BBC): @pakhead
John Le Fevre (The Establishment Post): @photo_journ
Kate Hodal (The Guardian): @katehodal
Newley Purnell (Journalist): @newley
Nuthatai Chotechuang (Nation Channel): @nuthatai
Patrick Winn (Global Post): @BKKApologist (no longer online)
Saksith Saiyasombut (Siam Voices): @Saksith
Sunai (Human Rights Watch): @sunaibkk
Terry Fredrickson (Bangkok Post): @terryfrd
Thin (Humanitarian): @thinink
Tulsathit Taptim (The Nation): @tulsathit
veena T.: @veen_NT
Waan Chomchuen (Wall Street Journal): @waanspeaking
William Davies (AFP): @WilwithoneL
Zoe Daniel (ABC Australia): @seacorro
2Bangkok: 2Bangkok
FCCThai: FCCThai
Asian Correspondent: @AsCorrespondent
New Mandala: @newmandala
Siam Voices: @siamvoices
Arm MatichonTV: @AMatichon (no longer online)
Bangkok Post: @BPbreakingnews
MCOT English News: @MCOTEnglishnews
The Nation: @nationnews
CMDThai (Civil Movement for Democracy): @CMDThai
Rajprasong News (Red Shirts): @Rajprasong_News
UDD (Red Shirts): @UDD_English
Abhisit Vejjajiva (former PM): @PM_Abhisit (no longer online)
Yingluck Shinawatra (present PM): @PouYingluck
georgehenton (photojournalist): @georgehenton
Grant Cameron (photojournalist): @grantthai
Jack Kurtz (photojournalist): @photogjack
L. Suwanrumpha (photojournalist): @TheLilyfish
Thai protests in the news…
If you need to play catch-up, here's a few articles:
New Mandala: Who's who in Thailand's anti-government forces?
BBC: Thailand: Protests continue amid strike call
Bangkok Post: Media groups condemn protest threats
Bangkok Post: TOT power cut hits 750,000 users
asiancorrespondent.com: Who is financing the anti-government Suthep rallies in Bangkok?
asiancorrespondent.com (continuously updated page): LIVE: Fresh violence raises tensions in Bangkok
Note: My thanks goes to photographer L. Suwanrumpha (@TheLilyfish) and Asia Editor Jon Russell (@jonrussell) for suggestions on who to add to my previous twitter list for the Thai protests.
And now that I've finished this post, I'm off to see if this latest protest is over yet. See you there?