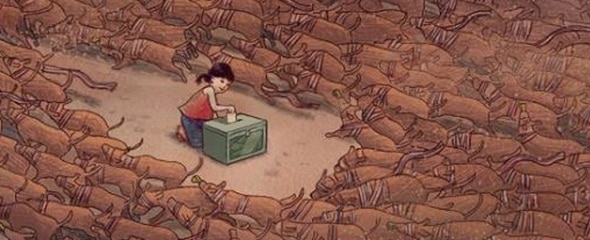 Manee gets into Thai politics on Facebook…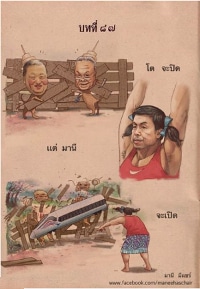 Monday (tomorrow) is the big kickoff for #BKKshutdown. On twitter the protests are also hashed as #BangkokShutdown and #ShutdownBKK and #ShutdownBangkok and #ปิดกรุงเทพ. Starting early, the anti-government protesters have already shut down Bangkok. Oh joy.
If you are interested in the Thai protests and would like to learn how to read Thai at the same time, there's a Facebook page that you 'might' fancy: Manee Has Chair (มานีมีเเชร์).
Old Thai schoolbook illustrations revived in satirical cartoons: "Manee. Manee has eyes." These are the first simple words most Thai children in the 1970s and 80s (and possibly every foreign student learning Thai) read in school.

Created by the Ministry of Education and published in 1977, the books – plainly titled "Thai Lesson Book" – aimed at primary school students became a recognizable childhood item for introducing them to reading Thai and also a stable of characters such as the young girl Manee (มานี), her older brother Mana (มานะ) and also a dog called Toh (โต).
Just like the Manee series, the words used are short and sweet. To understand what's going on in the cartoons, of course you'll need to follow what's happening in Thai politics and perhaps dig around some. Oh. And your Thai will get a real workout if you also read the comments below each drawing.
You can see the complete set of artwork here: Manee has chair Photo Stream
More about Manee…
Download 12 FREE Manee Books
Learn2SpeakThai: Learn Thai with Manee
More about (present) Thai politics…
Thai Language Thai Culture: Thai Words for This Time of Political Unrest
Keeping Cool (Tempers) in Thailand
Christopher G. Moore: The Kreng Jai System and Thai Politics
Thai Protests 2013: Who to Follow on Twitter
Stay safe everyone.