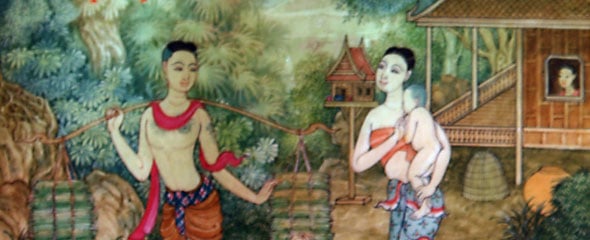 Even more Thai phrase books…
When I went on my Thai phrase book buying spree, several that were not quite right got caught up in the effort. But instead of ignoring their contribution, I decided to include them here.

Author: Samorn Chaiyana
Publisher: Bua Luang Pub. Co.
Date: 2003 Third Edition
Pages: 397
Size: 7-1/2 x 5-1/8 x 1″
Sound files: No
Dictionary: No
Estimated phrases: 2000+
Overview:: This is a wonderful resource for getting your foot in the door, but it's more of an introduction to the Thai language and culture than a traditional phrase book (hence Phrase Handbook included in the title). The design is old-fashioned but nicely laid out and the Thai script is legible.
Possible negatives: There is no dictionary, but as it is too big to carry in your pocket while shopping or sightseeing anyway, it's no problem making sure that there is a dictionary nearby.
Table of contents:
Origins of the Thai language
Being polite
Some values of the Thai
The boring things
Basic Thai grammar and stuff
Questions and answers
Thai phrases
Getting to know each other
Numbers and counting
Thailand's 76 provinces
Where do you come from?
What do you do?
Coming, going and staying
Yes, no, maybe
Males and females
Family and relatives
Weather and nature
Telephone
At the post office
Welcomt to Bua Luang Hotel
Clothes and laundry
Tuk-tuks and taxis
Directions and places
Driving a vehicle
Bus, train or plane
Time
Money
Shopping and bargaining
Eating and drinking
Sport, health and body
Making friends
Say goodbyes
Appendixes
Culture capsules
Special focus on Thai terms
Tests and quizzes
Thai proverbs

Author: Stuart Robson, Prateep Changchit
Publisher: Tuttle Publishing
Date: July 15, 2007
Pages: 160
Size: 6 x 4 x 1/2″
Sound files: No
Dictionary: English-Thai 550+ word vocabulary
Estimated phrases: 1000+
Overview: Instant Thai deviates from your bog-standard Thai phrase book. It is possible to drag it around Thailand with you, but the emphasis is on learning phrases over grabbing phrases. With a clean layout having breathable white space and good font choices, it is a powerful little book that teaches basic Thai phrases by building from one word and phrase to another. A decent sized Thai script is included.
Possible negatives: It's not standalone as there just aren't enough words. An index showing where the 100 Thai words are located would increase the usefulness of this book, as would sound files to help with pronunciation. The dictionary is English-transliteration-Thai, so you cannot share this book with a Thai only speaker.
Table of contents:
Preface
About the Thai language
Spelling and pronunciation
Getting to know you
Asking questions and getting answers
Ordering a meal
Shopping and negotiating
Getting about
Family and friends
Entertainments
Telling and talking
Health and the body
Going to the temple
English-Thai wordlist
Telling the time
Thai kinship terms
Some Thai proverbs
Emergency expressions
Suggestions for further reading

Author: Jonathan Smith
Publisher: Fetch-a-Phrase
Date: 2005
Pages: 1 folded sheet
Size: 8-1/4 x 4-1/2
Sound files: No
Dictionary: English-Transliteration 600+ word vocabulary
Estimated phrases: Difficult to tell
Overview: Over 30 sentences with a decent list of words separated into nouns, verbs, adjectives, time modifiers, etc. The idea is to mix and match with the appropriate sentence; quite clever really.
Possible negatives: The tall, folded laminated sheet is bulky. There is English and transliteration, but no Thai script.
Online resources…
Not offered in Thai, but they could be…
Bottles in translation
More than 100 of the most commonly used words and phrases for a traveler's most common queries.
Vocabulary Words Shower Curtain
Shower curtains with foreign words and phrases.
Next up: Pictures: When They Can't Speak Thai….
Reviewing Thai phrase books, the series…