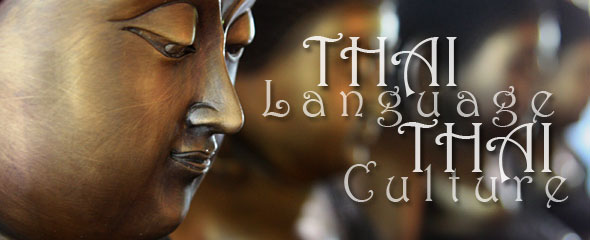 Learning Thai Later in Life…
I read the Language Forum posts on ThaiVisa.com regularly to find out what some people are thinking about learning Thai. Some of the posters are quite knowledgeable and I learn a lot from them (I just learned a new Thai word today from a post: แรงจูงใจ /raeng-​joong-​jai/ "motivation"). But sometimes the posts are less than helpful. From a post this week titled "Reasons Why Not to Study a New Language", here is one comment, "Learning Thai is boring and a waste of time, useless outside this liitle (sic) country. If you can get by without don;t (sic) bother" .
As you probably have guessed, I don't completely agree with the last comment. But for some, like our commenter, they really may have no แรงจูงใจ /raeng-​joong-​jai/ for learning Thai. It is a truly difficult language to learn and the ROI, return on investment, is just not worth their effort. For them, I recommend that they not waste their time with learning Thai. With that attitude, failure is almost guaranteed.
But for others, whether they want to feel more at home here, want to speak with and understand those around them better, want to communicate with a friend or spouse in more than just broken or pigeon English, want to express more about what they are feeling than just being able to say, sometimes using only hand gestures, that "I am hungry", or simply want to keep their brains from atrophying in this hot tropical climate, they do have the motivation to accept the challenge of leaning Thai.
The big question is, and it is one that keeps a lot of people from taking up that language-learning challenge, "is it more difficult to learn a foreign language when you are older?"
The answer is yes. Learning any language after our teenage years really is difficult, but not necessarily that much more difficult later in life. At a certain age our brains are wired to learn language, any language. We all pick up language about the same age, somewhere between 2 and 4 and that language-learning-on-steroids continues on until we are teenagers. During this time we can learn more than one language. That is how some people become truly bilingual. It is probably true that a child can learn to speak 3 or 4 languages fluently at this time. Our brains are just wired that well. But sometime later our brains probably go on to be used in learning other skills. So if you are past your language learning age, yes, learning new languages will be difficult, but not impossible.
The questions about the difficulties learning Thai when we are older are often asked by seniors who have come to Thailand to retire. Their response frequently is, "I'm too old to learn a new language."; although I have heard people in their 20s say the same thing. It is a great excuse for not learning Thai. But it is not true.
Age should not stop anyone from learning anything, a new language included. It might slow you down a bit, but at our age what hasn't slowed down? After the age when our brains are less wired to learning languages, picking up new ones becomes more and more difficult. But it has always been difficult, hasn't it? When you studied that foreign language in high school, did you find that easy? I didn't. I not only failed French, I failed Spanish too.
On the other side of the fence, I have taught English as a second language in a number of countries, and in America, and I spent about 10 years trying to teach Thais English, some of the most futile times in my life. Of all the students I have taught, my best students, the only ones who really mastered English, were students at a community college in the U.S. They came from places as varied as Mexico, Russia, Brazil, China, Italy, and South East Asia. The one thing they all had in common though, was that they were all immigrants.
As it turns out, studies have been done to determine what variables make for successful language learners. Teachers, textbooks, methodology, student's native language, their educational level, were all ruled to have a minor influence. The one major characteristic all good language learners have in common is "motivation"; there's that word แรงจูงใจ /raeng-​joong-​jai/ again.
When you live in an environment where everyone speaks one language, and you speak another, it becomes easier to develop the motivation to learn to communicate with those around you. And who has more motivation for learning a new language than an immigrant?
As for all those foreigners coming to Thailand to work or to retire, you are surrounded by people speaking a different language than you. If you have the motivation of a typical immigrant (which is what you basically are) to communicate with those around you and to learn a new language, then you are not too old.
Here are some suggestions for learning Thai (or any new language) for those who are beyond the "language-learning-on-steroids" years.
Define your motivation…
Know exactly why you are putting in the time and effort to study Thai. I mean, if you exercise you might be doing it to look good, or for your health. If you study the piano you can do it to accompany your own singing (which is why I am currently, at age 66, learning the piano), or as a meditation, or simply for the love of music. All of us will have our own reasons for learning Thai. Define your goals and work hard to achieve them.
Take lessons…
A good teacher is important. Do some research and find the person using the methods that fit your personality and needs. I personally liked learning in a class setting better than one-on-one. Others might feel the opposite. If you take scheduled lessons, especially ones that you pay for, you will have more of a reason not to skip one. It is like having a personal trainer who forces you to do those last 10 pushups. If you try to learn Thai without a teacher then it will be like having to do all those pushups by yourself.
Carry a notebook…
Every time you come across an English word you would like to say in Thai, or a Thai word you would like to know the meaning of, write it down, even if it is only phonetically. I have hundreds of pages of words like this. I use them like a personal vocabulary textbook containing words that I need or want to use.
Use a dictionary (paper, on-line, or human)…
Don't let inertia stop you from looking up a new word (often from that notebook of yours), or at least asking someone who knows Thai to help you out. It takes time and effort to look up words but the rewards are there for you. Find a dictionary that you find easy to use (with type that you won't have to use a magnifying glass to read), or if it is a person, someone who is reliable and can answer your questions.
Be patient…
You don't have a time limit on learning a language. I mean, most of us are still learning new words in our own native language. You have the rest of your life. Note your progress and remember that all learning has a plateau phase when our brains don't do much for a while and nothing new happens (It is probably just resting.) But the brain is getting ready to make that next quantum leap later.
Have fun…
If you aren't enjoying what you are doing then you're like that guy from above who thinks that "Learning Thai is boring and a waste of time". The way I keep it fun is I look at leaning new words like I am playing a computer video game where I need to collect weapons (words in this case) that I can use to slay the monsters and eventually save the princess.
Saving the princess. That is my แรงจูงใจ /raeng-​joong-​jai/.
Hugh Leong
Retire 2 Thailand
Retire 2 Thailand: Blog
eBooks in Thailand