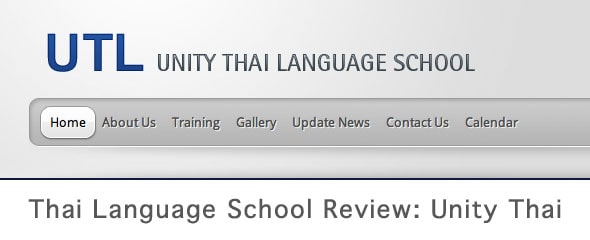 UTL Unity Thai Language School…
School: UTL Unity Thai Language School
Website: utl-school.com
Address: 18th floor Times Square Building, 246 Sukhumvit Rd, Khlongtoey, Khlongtoey, Bangkok Thailand 10110
Telephone Number: 02-653-1538
Email: [email protected]
Location: UTL Unity is in the Times Square Building. The school is easy to get to by either the MRT (Sukhumvit Road Station), or the BTS (Asok Station). From the MRT, go up to the sky walk to the Sky Train and follow it around until you walk directly into Times Square, and then up to the 18th floor. Note: if you're coming from the MRT, you can't get thru Asok Station without paying, so use the sky-walk for Terminal 21 because it jumps Asok stations turnstiles and connects to the skywalk.
Basic Info: UTL Unity is another Union Thai Method school. The method was designed to teach foreign missionaries who washed up on Thai shores. UTL Unity's website says the school itself has been around for over 10 years, which I totally believe. I've lived behind the Times Square building for the last 7 years and they were already there when I arrived. UTL also mentions that the material was designed over 40 years ago. And given some of the out-of-date phrases in their books, I believe that too.
Materials: UTL Unity concentrates on teaching spoken Thai first. The books use phonetics (karaoke Thai). You're unlikely to find it in any other Thai course books, except for other Union Clone schools. It's not as wacky as other phonetic systems but it's squirrelly enough that you first need to learn the system before you can get anywhere.
UTL Unity has two 'modules' (a fancy way of saying 'books') for conversational Thai. The books ONLY have karaoke Thai and English translations. There is NO Thai script at all.
Before you are exposed to Thai script (starting at module three) you work thru modules one and two to develop proficiency in speaking Thai.
Surprisingly, the books are quite intensive. By the time you get thru with the second book you've got a really good 'getting by in Thai' grasp of the language.
To me, the methodology could be improved by including the Thai script in the beginner books. This is so that students can at least begin to see what real Thai looks like.
From module three on students are exposed to the Thai writing system. Module three also concentrates on conversation as well. Note: You have to do both module three AND four to learn all the Thai consonants and vowels.
Beginning at module four you are given homework for writing the most commonly used Thai words, short answers to questions, etc.
Module five is where you really learn to read and write Thai via short stories, essays, etc. It's also where your homework starts to dial in your writing ability.
Module six is conversation based. It teaches slang, idiomatic expressions, and focuses on increasing the speed of a persons reading ability, as well as writing longer essays.
UTL Unity has a LOT of topics for advanced learners (more than I care to list, that's for sure). Some are the same beat-to-death stuff you see at every Thai language school in Bangkok: Thai culture, Buddhism, social customs, etc. Some are pretty good though. The subjects touch on proverbs, newspapers, and current events.
UTL also offers a program which starts in the fall (I believe) and prepares students for the government Thai Proficiency Exam given in December.
Method: In the group class I sat (6 years ago), the classes were conversation based. They started out with the standard fare of meeting greeting, asking your name, etc. The teacher said the vocab words, we repeated (as a group), and then the teacher went around one by one, having us repeat back to her. She covered the dialog drill and we repeated in a group, then broke into pairs to practice the drills. It is a dialog substitution type format, where the words that can be switched out are marked and other vocabulary is used.
Teachers: I must admit that I have experience with only one teacher at UTL Unity. She taught the beginners' class. In fact, she ONLY taught that class (and from her ease of teaching it, for a good long while). She was very well versed with the material and incredibly supportive of students abysmal attempts at toning and vowel length, and not too heavy handed in errant pronunciation corrections. She made extreme facial expressions, and much to the amusement of the students, used mime very effectively in class to get points across.
Classes: UTL Unity is like several other Union Clones which offer Intensive Thai classes. Intensive Thai runs in the morning for four hours a day M-F, and is three weeks long. The afternoon class is the same only its three hours a day. For your run-of-the-mill-foreigner lookin' to learn conversational Thai, it's really intense!!
The intensive Thai class moves along at a good clip; there's not a whole lotta time spent on the "whyz-in-thai (why is Thai like this but English is like that). In fact, if I remember correctly, most of those type of questions were answered with, "That's just how Thai is…" (FWIW: I hate that answer because everything they do in Thai has rules whether they know it or not.)
Now don't get me wrong, perhaps had my motivation been different way back when, I'da gotten a LOT outta it. However, my class, not surprisingly enough, was composed entirely of foreign missionaries (people I have less in common with than I do Thais). Needless to say, it was not fun to go to, or sit thru. It was not a class I looked forward doing, at all.
ED Visa: As UTL Unity is registered with the Ministry of Education it provides ED visa support for students. UTL has a deal where if you buy so many modules they give you the documentation needed to secure your ED visa at a neighboring country's Thai Embassy. UTL Unity provides in-country extension documentation too. They DON'T have a ED visa program where you can study Thai a mere 4 hours a week to live here. This is a school that makes NO bones about the fact that you're gonna learn Thai come hell or high water.
Bang-4-The-Baht: As I said, this is not the school for someone looking to live in Thailand on the ED visa. For the serious learner of Thai, I'd give this school a very high "bang-4-the baht" rating. But I'm telling you, you're gonna hafta be diligent to retain anything out of those intensive courses. You've gotta practice the dialog outside of class with someone. You miss a single day and you miss the material covered. And if you're fresh off the boat, you're gonna be overwhelmed early on.
I personally know several people who went thru to module six and they came away reading, writing and speaking super clear, well structured and enunciated Thai.
I hafta be completely honest, (well no, actually I don't, but I will…) This is the first school review where I couldn't personally go in to write this review. I had to send in a plant (a foreigner dressed as a small shrub actually).
When I first moved to Thailand I went to UTL Unity for their intensive Thai program. As I said, I was less than impressed with the entire endeavor. Perhaps, looking back (if I can even remember back 6+ years ago), my motivation for learning Thai wasn't what it is today.
Of course, being typical American, I had a meeting with the principal where I made my dissatisfaction only too well known. Evidently I made such an impression on the entire staff that when I went into the school six months ago to check on their Thai Proficiency Training course, the girls at the front desk STILL remembered me!! Suffice to say, they were less than cordial (especially for Thais) in answering my questions, and made it clear my business was not wanted or needed.
Still, this review is accurate insofar as the information I'm relating. I hope you found it of marginal value.
Tod Daniels | toddaniels at gmail dot com
Reviewing Thai Language Schools in Bangkok
(BTW: Tod is NOT affiliated with any Thai language school)