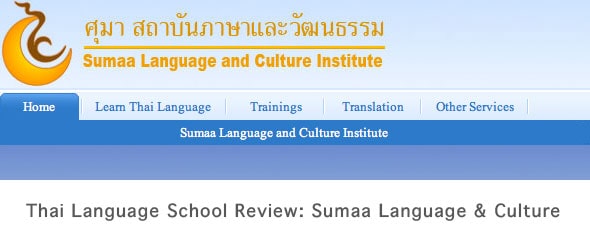 Sumaa Language & Culture Institute…
School: Sumaa Language & Culture Institute
Telephone Number: Tel. 02-286-0129
Address: Sumaa Language & Culture Institute, 36 Sathorn Soi 1 South Sathorn road, Tungmahamek, Sathorn, Bangkok 10120
Location: Sumaa Language & Culture Institute states that they're conveniently located not far from the Lumpini MRT Station. But if you are walking with a cane it's a LONG slog down to their school, just opposite the Goethe Center on Sathorn Soi 1 Yake 2. Next time I'll take a taxi from the MRT.
Basic Info: Sumaa Language & Culture Institute is on the second floor of a house. The first floor has a clothing shop; you enter the second floor from the outside stairs. It's a nicely set up school, with friendly outgoing English speaking staff. The staff's demeanor really put me at ease. During our initial conversation they asked what my goals were in learning Thai, what level of Thai I thought I was at, etc. Of any school I've been to they did the best job of pre-qualifying me as to my specific learning Thai needs. Then again, because this school doesn't do ED visas, they have an entirely different clientele than schools which cater more towards that demographic of Thai language student.
Note: I'm NOT saying schools which offer ED visas aren't quality schools. I'm only pointing out that this school doesn't do it. How you stay in Thailand is your deal, not the school's.
Materials: Their materials are available both in phonetic Thai with English, and Thai script. That's a plus for me unless I can see the English translation and guess the words by context, I can barely read phonetics. The phonetic system they use is a little squirrelly but not so bad that it's unreadable. The text books start out like most do: greetings, what's your name, questions about where you're from, what your occupation is, etc. They progress to more complex conversations as the books advance. Reading and writing Thai script is on offer as well.
Method: The methodology is phonetic based. It concentrates on getting you to speak in Thai as quickly as possible. The consonant sounds, vowel sound and length, as well as the toning are all covered in a matter-of-fact straightforward method (the toning was explained so well that I almost understood it).
Sumaa Language's intermediate and advanced reading/writing Thai books start out with a short paragraph and then progress to longer and longer stories. New vocabulary is introduced before the story is read. The students read the story to themselves first, and then they read it aloud. The teacher corrects any errant pronunciation. After the story is finished there is a conversational portion with questions where the story is discussed to gauge comprehension. There are also a written questions where answers in Thai are required. This is assigned as homework.
After seeing so many advanced reading writing classes at the various schools, I've become somewhat jaded because the material is usually the same-old-song-&-dance stuff that's been beaten to death: Thai culture, the history of Thailand according to the Thais, holidays in Thailand, the weather, blah-blah-blah. Surprisingly, this school didn't have those stories. While the first story covered wasn't exactly edge of your seat reading by any means, it did expose me to different structure and new vocab I didn't have. It was interesting enough to catch my attention, and easy enough for me to comprehend.
The second story we did was much longer. I believe the teacher realized that despite my assertions that I didn't know much Thai, during the discussion about the short paragraph which comprised the first story she decided to raise the proverbial bar a notch or three, lol. Still, I got thru it, although the portion where I read the sentences aloud made the teacher cover the grin on her face with her hand (like Thais do when they don't want to guffaw out loud at someone's fox-paws). Even so, she patiently went through the story sentence by sentence. First she read it aloud, and then I read it back using the intonation she'd used. Sometimes we had to go a couple words at a time for me to get the tones correct, but she was patient with my mangled pronunciation to the n-th degree. The conversational portions went better and I was able to answer most of the questions with complete Thai structured sentences. If I couldn't understand something she'd explain it in Thai first, and if I still was blanking out, she'd graciously switch to English so I could catch on.
Teachers: I spoke to three teachers and the owner of the Sumaa Language & Culture Institute. They all seemed to want foreigners to learn the Thai language; it shows in their materials and their dedication in class. The teacher in the intermediate reading / writing class was excellent. I couldn't find a single downside to her ability, methodology, or the materials used (and believe me I tried). Any shortcomings were due to my inability to understand, replicate the proper tones, etc., rather than from the schools side of things.
Classes: The sample class I sat was originally supposed to have three students but alas (or to my benefit) the other two were no-shows and I had a private lesson for two hours. They do offer group classes IF they have people at the exact same level. They also offer discounts if you and a friend join together. However, the Sumaa Language & Culture Institute is more along the lines of schools like Jentana & Associates in that they really cater more towards private 1 on 1 lessons. This can be quite good for study as you can go as fast or as slow as you want and there's no pressure on dragging a group of students through a particular lesson in a given time frame.
During the class I sat the teacher ran it to the minute. This obviously wasn't the first time she'd taught that material. She wrote on the white board in Thai, and if I couldn't get the toning she'd write the karaoke Thai so I could see the tone mark. As I'd mentioned, their toning chart was so easy to read (even for me) and the teacher was gracious enough to give me a copy. She also explained how to use it quickly to discern tones of unfamiliar Thai words.
ED Visa: The Sumaa Language & Culture Institute doesn't play the ED-visa game, so the caliber of students is completely different (I'll state one more time for the record, I'm NOT downing schools who offer ED visas to students, only saying this school isn't in that group). While I was taking my sample class several businessmen in suits showed up for their Thai lessons. When I queried my teacher she said their companies pay for them to attend school to learn Thai. I'd imagine even in a small group class the demographic of students would be quite different from private schools which cater more towards the ED-visa crowd.
Bang-4-The-Baht: The Sumaa Language & Culture Institute rates quite high as far as my perceived bang-4-the-baht. I tried to find fault with their methodology, their materials, and their teachers, but came up empty on all counts. If a student wants high quality private Thai lessons with good materials, good teachers, and a flexible schedule be it a crash two week course where you go every day for several hours a day, or a more relaxed schedule where you attend only a couple hours a week, this school can meet your needs. Price-wise they're right in line with other schools offering similar courses, and far below almost all the private lesson prices offered in schools which cater more towards those group lesson discount rates.
Hope you found this of marginal value. Personally, to get my pronunciation of spoken Thai up to speed, this would certainly be on my list of schools I'd consider attending.
I do want to apologize to the readers or my reviews if I repeat things. After so many schools I'm finding it difficult to remain objective and think I'm more than slightly jaded in my objectivity. Plus, now that my Thai language acquisition has progressed to the level I'm at, it's getting harder to go into these schools as a newbie-Thai-learner. After they interview me, it becomes readily apparent that I'm a little more advanced than someone fresh off the boat, who's just washed up on these shores and wants to learn Thai.
Tod Daniels | toddaniels at gmail dot com
Reviewing Thai Language Schools in Bangkok
(BTW: Tod is NOT affiliated with any Thai language school)