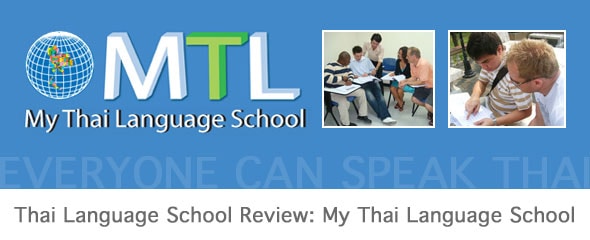 My Thai Language School (MTL)…
Web: MTL My Thai Language School
Address: Fortune Town, Education Zone, G floor, Mrt Station Phra Ram 9, exit 1
Tel: 02-642-3525
Location: UPDATE: My Thai Language School has moved (address above).
Basic Info: I first wrote about My Thai Language on a forum right after it opened. MTL was created by a Thai who just happened to be my first official teacher. They've re-done the school since I first saw it. MTL is now laid out differently and it's bigger than I remember.
One thing you notice when you enter the school is that everything is labeled in Thai and phonetics: clocks, maps on the wall, pictures, desks, chairs, sofas, etc. It's a creative way to get students to remember what common things are called in Thai.
The staff are quite pleasant to deal with (remember, I'm pretty darned coarse so if they're nice to me, they'll be nice to anyone!)
Materials: The course materials at My Thai Language School have undergone a re-write since I first stopped by. What I like about the materials is that they aren't just a carbon-copy of someone else's. The course materials are written from scratch. They now have current, quite interesting and practical dialog. The books have contemporary Thai, useful phrases, and high frequency vocabulary.
The first book is in phonetics and Thai with English translations. The phonetics and English are on one page and the facing page has the Thai. That way, if you can read Thai already, you're not distracted by the english phonetics (usually written under the Thai at most schools).
The Thai only books are filled with mini-exams to check your retention. Some of the books have word searches, unscramble the sentence, pick the correct sentence, fill in the blanks for words, match the picture to the word, and more, all in Thai. It's an easy way for students to learn and to have fun at it too. I feel this is something most schools don't take advantage of nearly as much as they should.
Method: As I've mentioned in previous reviews, there's not a lot of revolutionary new ways to acquire a language. My Thai Language School starts out with basic dialog: meeting and greeting, asking directions, etc. The classes are taught primarily in Thai and the teachers have a good enough grasp of English to answer questions. The levels are broken down into Beginner, Intermediate and Advanced, with two 100 hour modules in each. To get you speaking Thai in-class, there's role play dialog with the teacher and students.
My Thai Language School tries to build a good foundation of spoken Thai before starting to teach reading and writing. I don't see anything wrong with this. In my opinion, with learning to read Thai even at a piss poor level you invest a LOT of time with very little return in investment. Seems to me that being able to speak FIRST (even learning via karaoke Thai), gets you headed in the right direction.
Teachers: The teachers at My Thai Language School are qualified and want students to confidently speak Thai. I'd say these teachers rate right up there as far as being able to teach non-native speakers Thai. It's a tough balancing act sometimes, switching between Thai and English to explain things, but the teachers at MTL do it well. Before they'll explain a lesson in English they try to get students to understand the explanations in Thai first, even if it means drawing on the whiteboard or miming it out. This is a good thing, because if students are fed meanings they often don't retain as much. Whereas if students have to reason out the meaning thru context or usage it's much more likely to be retained.
Classes: The classes at My Thai Language School are your typical four hours a week set up which meets the Ministry of Education's minimum parameters. Students can attend either a single day of four hours a week or do two days of two hours each day. The only day they're closed is Sunday.
MTL offers more intensive courses and private lessons too. They also have special group lessons for those interested in learning Thai at the same level.
Something I haven't seen at too many schools are classes for professionals who need specialized Thai vocabulary in the workplace to interact with Thais. The courses are custom tailored to each individual's needs.
ED Visa: My Thai Language School no longer deals with Ed Visas.
Bang-4-The-Baht: I'd rate this school pretty high up there on the pile. Based solely on the material alone, especially as it was written from scratch (not copied), I give 'em really high value. Honestly, there are so few schools doing anything remotely innovative in learning Thai that it's good to see one going out on a limb, not just cloning another school's methodology. MTL deserves points if not in innovation, at least for creativity. I especially like the mini-tests and exercises in the books geared towards reading Thai.
If you are looking for a Thai language school, MLS would be a good school to check out and sit a free class.
I do hope you found this review of interest. Believe me, it isn't easy coming up with things to say because after a while all the schools blur together. Only the best (which I will review) and the worst (which I will never review) stick out in my mind.
Good luck in your learning Thai endeavors. And feel free to contact me if you have any questions, or if you want a Thai language school in Bangkok looked into.
Tod Daniels | toddaniels at gmail dot com
Reviewing Thai Language Schools in Bangkok
(BTW: Tod is NOT affiliated with any Thai language school)