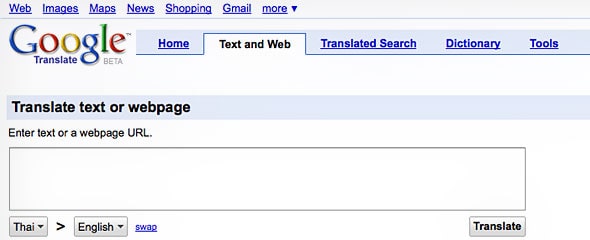 Google Translation goes Thai…
The good news is that Google Translate can translate Thai-English and English-Thai. The bad news is that it's not terribly good. Not shockingly bad. Not frightfully awful. Just not terribly good.
But you can make it better.
From Rikker: Notice that after you paste text to be translated, there's a link on the bottom right of the results page inviting you to "Suggest a better translation." This is great, because it harvests human knowledge to augment the machine translation.
You can do even more by checking out Google's Translation Tools.
Add the Translate gadget to your webpage
Add the Google Thai button to your browser's toolbar
There's also:
You can even create your own mini-dictionary with Google's Spreadsheet Translator.
And further into the future there might even be Google Translation Bots for Thai.
Read more on Google and machine translation (from a real life translator).
Other online Thai dictionaries and translators…
English – Thai Dictionary Online
Although it didn't know the English translation of เดี่ยวไมโครโฟน, the strength of this dictionary is its community. Can't find a word? Ask in the forums.
FREELANG Thai-English and English-Thai online dictionary
Not perfect (it didn't know เดี่ยวไมโครโฟน). But it's free and you can create a practice list with the downloadable version.
Longdo English-Thai Dictionary Service
An online dictionary for the serious Thai learner.
Mary Haas Thai-English student's dictionary
Google Books has all but 36 pages out of 638 online for free.
Royal Institute
Official Dictionary of the Thai language (ditto on the serious!).
SEAlang Library Thai Dictionary
Based on data developed by the Mary Haas Thai Dictionary Project (again, seriously good stuff).
SiamDic.com
Thai – English Dictionary Online.
thai-language.com – Dictionary
The cream of thai-language.com's Thai dictionary has got to be the extra goodies. The one I use is the Reverse Phonemic Transcription. When I'll find a mysterious transliterated Thai word I paste it in. Sometimes it works. Sometimes not.
Thai to English dictionary & transliteration
This is the one I use most often as it's user-friendly. There's also a Thai2english Dictionary Download. Just like Google Translation, you can paste whole sentences. Unlike Google Translation, you scroll over individual words to get the translation.
Thai Dictionary at seasite.niu.edu
It didn't know กรานกฐิน, but again, it's free.
Additional Thai dictionary and vocabulary resources…
UPDATE: Review: English Thai iOS App Dictionaries: iPhone and iPad.
If you are looking for an iOS App dictionary, it's all there.
Easy Thai (and more) Translator for Mac OS X
I tried it out and it's quite slick. Not free. But Mac slick.
Extended English-Thai Vocabulary
From Fundamentals of the Thai Language, it includes around 2600 words used in the course as well as others in common use.
Get Your Name in Thai
Apparently mine is คัตทรีน, pronounced Khat Sin. I'm not saying that my mother would agree, but Sin is marginally better than Mao.
Thai dictionaries (hardcopy)…
English-Thai Dictionary
By Denis Segaller of Thai Ways and Thai Without Tears. It's old-fashioned, but a charmer.
Thai-English English-Thai Phonetic Dictionary
A decent small dictionary by Benjawan Poomsan Becker of Thai for Beginners and much more.
Thai-English Dictionary
By George McFarland. Although it old, it's highly respected amongst Thai dictionary aficionados.
Thai-English Student's Dictionary
By the renowned Mary Haas. "Both English-speaking students of Thai and Thai students of all disciplines will be hard put to find a more comprehensive and satisfying answer to their general vocabulary needs". And I want one. Got it. Finally.
Thai-English dictionary
By Domnern Sathienpong. From Rikker: "The Third Edition of the dictionary is the finest Thai-English dictionary of recent years". I want one of these too. Nice.
English-Thai Dictionary of Contemporary Usage
By P. Sethaputra. Like Haas, this dictionary includes sentence examples showing practical usage.
The Oxford-River Books English-Thai Dictionary
Touted as "the most comprehensive English-Thai dictionary in the world".
Three-Way Thai-English Dictionary
By Benjawan Poomsan Becker and Chris Pirazzi, published in 2009.