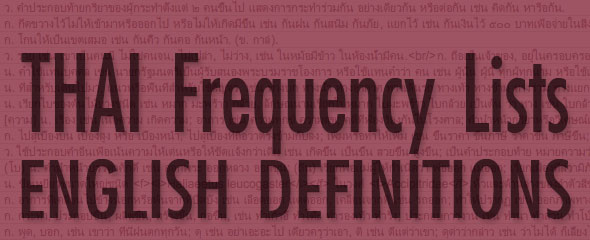 Thai frequency lists with English definitions…
In How to Learn a Language in a Foreign Country Robert Bigler mentioned the importance of using frequency lists.
The same 3-4000 words come up all the time. Learn them. Work with them. If you don't understand something, ask people to explain.
Students of the Thai language have been in search of a decent frequency list for years. Back in 2006, Rikker Dockum (Thai 101) posted Doug's 1000 Thai word frequency collection on TV: List Of 3000 Most Common Thai Words.
Rikker pointed out that the best list in Doug's materials came from the legendary Mary Haas. And for good reason. Unlike Mary's, many lists include technical and highly formal words (not exactly words to learn at the beginning of your Thai language journey).
After collecting Thai vocabulary lists (below) another problem I ran into is that many don't include English definitions. To rectify this, Mark Hollow (programmar extraordinaire) whipped up a program to add English from three dictionaries: Lexitron, Volubilis, and the Royal Institute (all Thai). Thanks Mark!
Not all words made it through, so if someone wants to take on that chore, please contact me.
From Mark: Each zip file contains the original files, csv or one-word-per-line plain text files and csv + excel versions with the English & Thai definitions. The LEX, VOL, LEX+VOL and RID file extensions denote the dictionaries used for the definitions in each file.
Thai frequency lists with English definitions…
Doug's 1000 Word Thai Frequency List:
Posted on TV by Rikker, the list includes: Mary Haas, McFarland, Orchid, and Tax.
Doug's 1000: download
Chula university top 5000 Thai words:
Chula's list (no longer online) seems to be drawn from academic publications.
Chula 5000: download
SEAlang Lab Thai Vocabulary Lists:
A collection of vocabulary lists compiled by SEAlang sorted by origin, web rank, and subject: Vocabulary: Thai AWl, AUA Reader, BYKI and SEAlang.
SEAlang: download
Jørgen Nilsen's Thai Frequency Lists and tests:
Formerly at thaifrequency.com, these files were created by Jørgen Nilsen using Chulalongkorn University's frequency list.
Thai Frequency Top 4000 (pdf): download
Thai Frequency Top 4000 (excel): download
Thai Academic Word List (pdf): download
Top 4000 Vocabulary Test for Thai (pdf): download
Thai Frequency Top 4000 on Memrise (created by John Smith):
Thai Vocab Builder 11
Thai Vocab Builder 12
Thai Vocab Builder 13
Thai vocabulary lists with English definitions…
McFarland:
In the 1940′s George Bradley McFarland used thirty different sources to compile the top 1000+ Thai words for his Thai-English dictionary. McFarland's list has weird quirks and omissions. And while the list is included in Doug's contribution, this download notes both the old-fashioned words and their modern equivalent (reason why I'm sharing it here).
Thai-language.com uses McFarland's list as a base for their Common words of the Thai Language.
McFarland: download
Fundamentals of the Thai language:
This list comes from the out-of-date but still wonderful Fundamentals of the Thai language. Being a Thai language resources junkie, the actual hardcopy (5th Edition) sits in a place of honour in my bookcase.
Updated sections can also be found at Thai-language.com: Fundamentals of the Thai Language.
Fundamentals: download
Paiboon Publishing:
I found Benjawan Becker's vocabulary lists online (apologies, but I've forgotten where). When asked, Benjawan gave her permission to share them in this post. Thanks Benjawan!
Thai for Beginners, Intermediate, Advanced: download
Anki 2: download
FSI Vocabulary:
This list comes from the FSI materials found on thai-notes.com at Foreign Service Institute Thai Language Course (still in the process of being updated).
FSI Vocab: download
Karn TV:
Karn.TV is a web site for kids' learning materials. There are three word lists for primary 1-3 grades. Included are cultural words such as basic royal and religious terms.
Karn Vocab: download
Manii Reader Vocabulary:
The Manii books are classics with Thais and students of the Thai language. Mani lessons can be found at Learn2SpeakThai, Learn to read Thai with Maanee at learningthai.com/books/manee (offline for now), and SEAsite.
Manii 1 & 2: download
Anki 2: download
Quick & Dirty Thai Vocabulary Download:
From the post of the same name, the Quick & Dirty Thai Vocabulary download is a work in progress.
Quick & Dirty Thai Vocabulary: download
Stopwords…
The Apache Lucene project is an open source search engine program. It has a Thai language module complete with stopwords and is released under a free license.
Lucene stopwords: download
Chula university also has a stopword list. It's ready to share but so far we've been unable to get permission.
Online Thai vocabulary lists…
Thailand Bangkok Mission: 1000 Thai words:
Ben Crowder from Riverglen Press has a 1000 Thai Vocabulary list used at the Thailand Bangkok Mission. Download it from his site.
ClickThai Vocabulary Trainer…
If you don't have the time to create vocabulary lists with flashcards and sound, the ClickThai Vocabulary Trainer is the top smart phone app with a graduated vocabulary list. From what I've seen, the others have a datadump (common and uncommon words come at you in no certain order).
For a review, read: Increase Your Thai Vocabulary: Word Brain & ClickThai Vocabulary Trainer.
Thai frequency lists without English definitions…
Thai wordlist from royin-dictionary
This Thai word list doesn't have English translations but perhaps someone can make use of it.
Vocabulary posts on WLT…
Here are a few more WLT posts discussing Thai vocabulary lists (you can also do a site search for 'frequency'):
The Top 39 Thai Words You Must Know
A Top 100 Thai Word List Created from Phrases
Top 100 Thai Vocabulary List
And for a rolling litany of new vocabulary, read most anything by Hugh Leong: Thai Language Thai Culture.