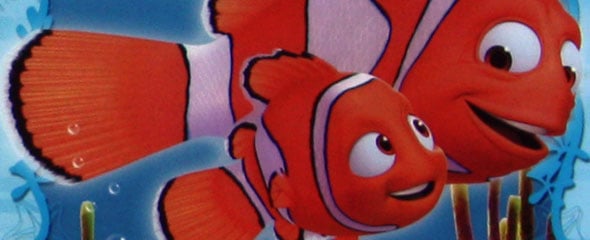 Back, back, back to kinder…
Going back to kindergarten. Hmmm. But, if that's what it takes to read Thai, then so be it.
Thai is a tonal language, so being able to listen while you read is especially important for those clinging to training wheels (like me). And (I hear) even for intermediate readers.
Some Thai-English books for beginners will come with sound, but most won't. When I got into my mad buying spree (still there), I didn't realise the significance. I now have a nice pile sitting here, waiting.
But before I get to the Thai-English readers for beginners, I'd like to share tips for listening to Thai language mp3s.
Beginning courses have slower recordings. Once out of the 'see spot run' range, you are rushed into normal speed. As you should be.
But for basic beginners on fast forward, well, your brain will cease to exist.
So this is what you do…
Audacity and Thai readers…
Download a free copy of Audacity (don't forget to install the LAME MP3 encoder).
Import your mp3 of choice into Audacity by dragging, then dropping the mp3 icon onto the Audacity program icon.
Once open (if needed) click on the magnifying glass with the + until you see a clear distinction between sound clumps (look for blobs between flat lines).
To select a sentence, drag your curser over a clump of blue.
While it's selected, click on the green arrow and adjust your selection until satisfied.
In Audacity's top nav, select effect >> change speed.
Move the percent change slider, then click on the preview button until happy.
Click the ok button, then the undo (command Z for a Mac, ctrl Z for PC) once you get back (you don't want to slow down a selection twice).
Select everything (command/ctrl A) and go back to the top nav to effect >> repeat last effect.
Again, go back up to the top nav, but this time to file >> export as >> mp3.
Save the file under a different name.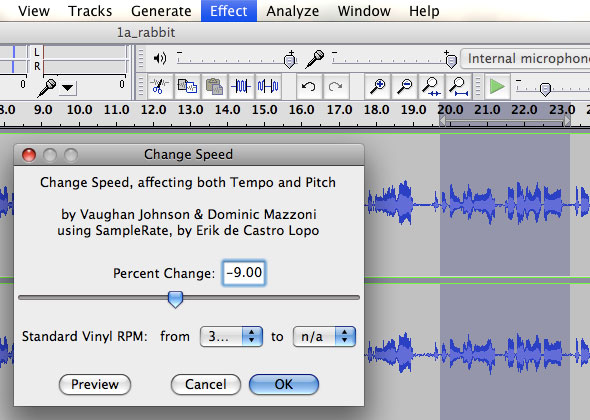 Listen using iTunes, RealPlayer, QuickTime or similar. Or, do what I do. Select sentences inside Audacity and keep hitting that green button as you read. Easy.
Finally, the online readers…
Manii Readers
Manii is one of the first Thai readers. First as in first on the ground as well as a first reader. On this site you'll find pdf and mp3 downloads for Manii Reader 1 and 2, as well as online vocabulary tests. It's old and clunky, but it's there if you need it.
Read Thai with Manee and Friends at LearningThai.com (no longer online – for the moment) has a modern Manee (Manii) reader. As there is no direct url, select Read with Manee from the nav on your left. Included are 22 lessons with sound, a vocabulary list, flashcards, tests, and more tests.
SEAlang Lab: Just Read
This is the motherload of online Thai-English reading. Sounds are lacking for whole paragraphs, but when you click on individual words the search takes you to a dictionary with sound and video. It's powerful, it's loaded down with Mary Haas, and it goes from beginner to beyond.
Thai Audio Books (spokenthai.com – offline for now)
Talking books written and recorded by students from Sriwittayapaknam School in Samut Prakan.
Hard copy readers with sound…
There are several online bookstores selling Thai-English books. One of the top Thai publishers are is Nanmeebooks. But, for basic beginners (unless you have a Thai by your side), finding an online Thai bookshop in English is needed.
For children's books, Buy Thai Books (offline for now) is the place to be.
From the list below I ordered the four Disney Pixar books as well as the thirty Aesop Tales. The recordings are clear and professional, with Pixar being particularly cheerful.
UPDATE: When the site goes online for good I'll relink the books.
101 Dalmatians
One book. Illustrated. Thai and English. 24 pages.
Alladin
One book. Illustrated. 24 pages.
Disney Pixar
Four books: Toy Story 2, Finding Nemo, Cars and Monster, Inc. Illustrated.
Pinocchio
One book. Illustrated. 24 pages.
Aesop Tales
Thirty Aesop Tales books written in Thai and English. Illustrated. 24 pages each.
Pocahontas
One book. Illustrated. 24 pages.
Snow White
One book. Illustrated. 24 pages.
The Lion King
One book. Illustrated. 24 pages.
Intermediate online Thai-English reading resources…
Note: this is not a complete list so expect it to be edited.
Languages on the Web
Daisy Stores: Night Watch, A Nice Little Trip, The Bookworm, Daisy Macbeth.
SEAlang Lab: Just Read
SEAlang gets a double mention for its long list of English-Thai on offer.
Thai Fiction in Translation
Translated modern Thai literature, by Marcel Barang.
Thai On-Line Library – Bitext Corpus
Thai and (mostly) English parallel translations.
Advanced online Thai reading resources…
dungtrin.com
Thai Literature audio books. Download their pdfs and mp3s files to read along.