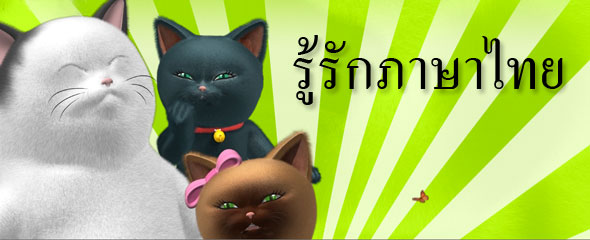 Thai kitty cartoons…
It's already September, which means I totally forgot to post cartoons for the month of August. Apologies, as the Thai YouTube Cartoon: Little Leader Geo series was grand.
A huge thanks goes to Simon for alerting me about the first-class cartoon series at thaicatcartoon.com, รู้รักภาษาไทย.
There are 180 cartoons, all for free. Amazing, yes?
If you are looking for a good mobile application to learn Thai, you can check out Ling. Through this application, you can learn Thai with games, flash cards, and puzzles. It can help to improve your speaking, listening, reading, and even writing skills.
And if anyone knows how to get into contact with them, please drop me a line. I put in a request to post the Thai-English transcripts on WLT, but my email bounced back.
UPDATE: Here is yet another site that has been taken offline. So sad. This is why I download Thai materials asap! But thankfully they are online at Royal Canin's YouTube channel.