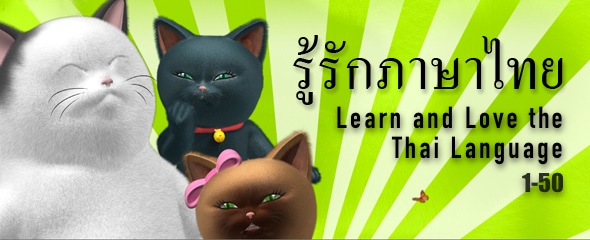 You'll have to agree that with 250 videos to translate, Sean's Thai Cat Cartoon series is one ginormous project.
To make the downloads more manageable for those studying with the cartoons, every 50 posts I'll create a compilation pdf.
Here's the first of five to download: Thai Cat Cartoons Episodes One to Fifty
Thai Cat Cartoon Series: Episodes One to Fifty…
The first six translations were provided by Luke Bruder Bauer (Facebook: Luke Bruder Bauer), with the second six by Tod Daniels (Guest Writer on WLT) and Ning Woolerton. The rest (38) were translated by Sean Harley (Speak Read Write Thai).
New Thai Cat Cartoons will go on Sean's Guest Author Page: Sean Harley
Thai Cat Cartoon Series: Study Files Compilation 1-20…
If you missed it, here's the compilation pdf with study files (spreadsheet with vocabulary) from the first twenty episodes.
Download: Thai Cat Cartoons Compilation: Episodes One to Twenty