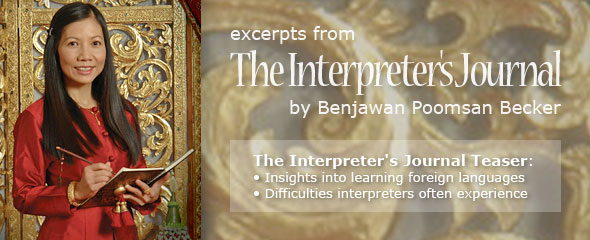 The Interpreter's Journal…
Most people know me as an author of Thai and Lao language learning products. But in the United States I also have a flourishing career as a legal and medical Thai and Lao interpreter.
And at long last, I've put down the story in my latest book, The Interpreter's Journal.
In three posts I'll share teasers: How it Started, Mistakes and Misinterpretations, and Studying Foreign Languages.
I hope you enjoy reading my book as much as I enjoyed writing it!
The Interpreter's Journal: How It Started…
"You must be the girl that people told me about."
She was a beautiful young woman with black hair down to her waist. Her colorful sarong made her a striking sight in the plain surroundings of the restaurant.
"I'm looking for someone to help me," she said. "And they told me to come here."
She was in her early twenties, and since I was the younger one, I instinctively greeted her with a wai – hands pressed together, prayerlike – to show respect.
Her words carried a sense of need, and her eyes darted around to see if anyone was within earshot. "I was told that you speak good English," she continued. "And that you teach kids. I've got these letters from my German boyfriend. He's been writing me in English. I kind of understand them, but I want you to translate them properly for me, and I want you to help me write him back in English."
Moments before, I'd been in the room above my mother's simple restaurant in Yasothon, northeast Thailand, studying for my high-school exams, but unbeknown to me, this event would open a new world of opportunity. How could I have known – this smalltown Thai girl of fifteen – that this day would be the beginning of my career as a professional interpreter, and that this chance meeting would, years later, lead me to the Federal and State courts of California?
I learned that her nickname was Oy, which means sugarcane, so I called her Pee Oy because she was older than me. Oy handed me three envelopes, each addressed in precise handwriting, and I couldn't help but notice the beautiful foreign stamps. I opened each letter and read a paragraph at a time, then translated the meaning into Thai.
The letters were filled with sweet words and promises to take care of Oy. I was lucky because they were quite simple, so I didn't have any problems with the words. But they seemed the most romantic words I'd ever read, and I must have blushed a bit. I explained softly so that nobody could overhear her story and start gossiping. But after the final letter, I couldn't contain myself any longer, and blurted out, "Sounds like you'll be going to Germany soon." Oy looked around to see if anyone had heard. "Yes, he wants me to go to live there. I think he wants to marry me. Can you help me write back? Okay?"
I didn't need to think for a second. "Sure, I can do that." As the delicious aromas of Thai cooking filled the air, she revealed to me her hopes, her joys, and her love for her German boyfriend.
I took notes, then excused myself and scurried upstairs to find the special writing paper I'd been given as a New Year present. Only the best paper would do for this letter. Back downstairs, Oy sat in amazement as I composed her reply in English, then rewrote it in my finest penmanship.
After the letter was finished, Oy and I talked for a long time as customers came in, ate their meals, left and were replaced by others. She told me that she had met her boyfriend when she left her village to go to work in the beach resort of Pattaya. I'd heard about girls from the area going to Pattaya and getting jobs. Many of them sent money back to their parents, and it seemed like a good and honorable thing to do.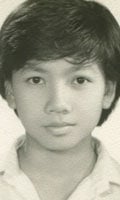 I was still quite innocent at this age. I had no idea what kind of work Oy was doing in Pattaya, but I was sure that she had been lucky to meet and fall in love with such a nice man. Her boyfriend eventually had to return to Germany, and had been sending her money so she could stay in her village and not have to work far from her home and family. I believed that he must be a wonderful person to send money and take care of Oy and her family – the kind of thing that earns much respect in Thailand.
Nobody understood English in Oy's village. That's why she had to ask around for someone who could help her. And this was the first time I realized that I could "make merit" – do a good deed and accumulate good karma – by helping someone through my language ability.
It also impressed me when Oy handed me 200 baht for the work. With the baht then at eighteen to the US dollar, my first translation job had earned me eleven dollars. It had only taken two hours, and at fifteen years old I had never earned so much money. Wow. A lot of people around there would have to work for days to earn that much. I started to get the idea that this might be a good career to pursue.
I used my newfound wealth to buy audiotapes and English-language books from ads in the English-language Student Weekly. I was inspired, and I set about my English studies more intensely.
Oy came back to see me one more time, about six weeks later, for another translation. It was during Songkran, in April – the traditional New Year water festival – and the hottest time of the year. I came home soaking wet from the water festivities in town, and saw her at one of the tables near the back of the restaurant. She was happy to see me, greeting me with a big smile, animated as she waved a new letter in the air. Yes, she had received a marriage proposal, and wanted to write back with her answer – an emphatic yes. She also wanted to make a note of her dowry requirements.
I never did see Oy again. I assumed she'd worked out all the details and was happily in the arms of her German husband. Not only did Oy provide me with my first translation assignment, she also gave me my first glimpse of a Thai-Western relationship. Before this, I'd never dreamed that a Thai girl could marry a Western man and live in another country.
Teaser: The Interpreter's Journal (in three installments):
How it Started
Mistakes And Misinterpretations
Studying Foreign Languages
The Interpreter's Journal can be purchased at amazon.com (Kindle and hard copy) amazon.co.uk (Kindle), and Paiboonpublishing.com.
Benjawan Poomsan Becker on WLT…
Interview: Benjawan Poomsan Becker
Learn Thai with Benjawan Poomsan Becker
Review: Three-Way Talking Thai Dictionary: Mac and PC
iPhone App: Talking Thai–English–Thai Dictionary
Thai for Beginners iPhone App