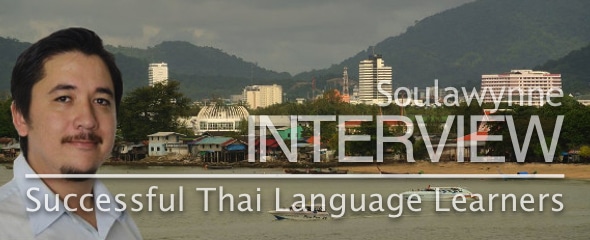 Interviewing Successful Thai Language Learners…
Name: Soulawynne (Portmanteau)
Nationality: Thai-American
Age range: 30-40
Sex: Male
Location: Phuket, Thailand hailing from Colorado, USA
Profession: Editor-Writer-Thinker
Blog: Siamerican
What is your Thai level?
Fluent.
Do you speak more street Thai, Issan Thai, or professional Thai? 
Central Thai, and sometimes, unintentionally, Southern Thai.
What were your reasons for learning Thai?
Initially to explore my roots, though the learning is continuous as I use Thai to sustain and propel my social and professional obligations and contracts.
Do you live in Thailand? If so, when did you arrive? 
Off and on for 14 years, first time in summer of 2001.
How long have you been a student of the Thai language?
2001-Date.
Did you learn Thai right away, or was it a many-pronged approach?
Learning is ongoing; 2-feet in from the start though.
Did you stick to a regular study schedule?
For me, I did not view it as formal study discipline, and thus Thai has been a 24-hour learning experience; as for intentionally hitting the books to improve reading comprehension, at least in the early years, I probably put in 2-3 hours a day on average, but again, not by any formal 'study schedule' or 'learning regime' per say, but rather setting a side time to do something I'm passionate about, like reading, or playing music.
What Thai language learning methods did you try?
Engaging and embracing direct/group communication contexts/conversations; music media – Thai pop/country songs, karaoke (with&without other Thais at the same time) A Thai friend or 10, etc et al.)
Did one method stand out over all others? 
Learning to sing Thai songs via karaoke and pop songs from guitar chordbooks helped with learning to listen to tones, consonants and invariably pronunciation thereof; and also in the early years, having the Thai telly on regularly, and watching Thai movies at the cinema also helped to improve my listening and comprehension. In summary, for me it was informal learning, immersing myself in the language and culture at every opportunity.
How soon did you tackle reading and writing Thai?
1-2 year mark one benchmark, 2-5 years another; 6-9 the next and plateauing somewhere along the line.
Did you find learning to read and write Thai difficult? 
No, as long as I always had motivation, and I always did. Learning to read and write has been part of learning to speak; I did not view them as different discipline, but rather different dynamics of the same discipline.
What was your first 'ah hah!' moment? 
Depending on whether 'ah hah' refers to an epiphany or finally achieving a pre-set benchmark, there's been a few such moments. First cracking a paragraph in the Ramkien; or a Thai newspaper headline in a conversation with another Thai; realizing I had been singing a particular word at the wrong tone, and then subsequently adjusting my attempt based on feedback; hearing other farang say it 'better' than I could, to name a few.
What are your strengths and weaknesses? 
Strength, Ability to meet Thai speakers in the middle, able to adapt to their level of Thai and English, and honing in on a mutual middle ground…

Challenge: rolling Rs, I've just got what Thais call, a firm tongue…
What is the biggest misconception for students learning Thai?
You don't need to learn Thai script to become a 'good speaker'.
What advice would you give to students of the Thai language?
Find/define your personal motivations and inspirations, and make the learning process central to your daily routine, creating and conforming to regular contexts, situations and interactions in which you need to use Thai, be it taking the time to order a coffee or snack engaging in some small talk with the smiling merchant or frowning policeman…small talk is as good as it gets. 

Most importantly, like every sage and guru in history has ever concluded about communication, take the time every now and then, to shut up and listen.
The Series: Interviewing Successful Thai Language Learners…
If you'd like to read more interviews the entire series is here: Interviewing Successful Thai Language Learners.
If you are a successful Thai language learner and would like to share your experiences, please contact me. I'd love to hear from you.