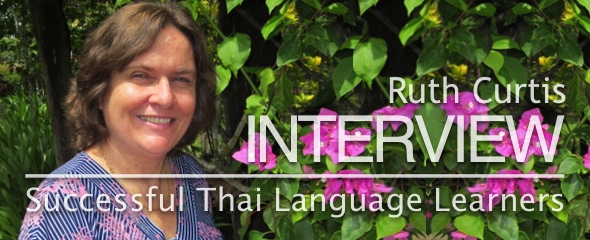 Interviewing Successful Thai Language Learners…
Name: Ruth Curtis
Nationality: American
Age range: 62
Sex: Female
Location: Bangkok Thailand
Profession: Missionary [church planter] currently work together with my husband in personnel management for Thailand field member care of OMF Intl.
What is your Thai level?
Fluent nearly native: speaking, reading, writing, typing, teaching.
Do you speak more street Thai, Issan Thai, or professional Thai?
Both street and professional.
What were your reasons for learning Thai?
I came as a missionary with OMF International, and after only 1yr (10 modules) of Thai studies was immersed in a small country town to do church planting [our co-workers were the only other foreigners around]. There was no church within 40-50 kilometers, and 5 scattered believers that we knew of to follow up. I quickly learned Thai out of necessity to cope and to bond with people around me, and be able to speak their heart language so that I could do the job of helping, teaching them and bringing them to Christ.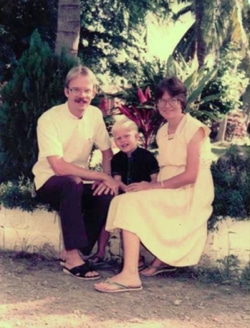 Do you live in Thailand? If so, when did you arrive?
I currently live in Bangkok Thailand suburbs [a little over 1yr.] I spent 30+years before that -1980-2012 – up country in Central Thailand; this was in either small towns or smaller cities… Lamnarai 6yrs, Angthong 3yrs, Lopburi 1.5yrs, Koksamrong 3yrs and Saraburi 13yrs.
How long have you been a student of the Thai language?
August 1980 – till currently. I'm always learning and finding new ways of saying things. The first 4yrs had formal language studies completing the OMF 3yrs of 10 modules each year, with comprehensive exams at the end of 2nd and 3rd years.
Did you learn Thai right away, or was it a many-pronged approach?
I learned Thai right away in OMFs language learning program which was based in Bangkok, Bangrak area at the time. This language course was meant to be comprehensive covering comprehension, pronunciation in, speaking, listening, reading, writing. When we moved up-country after the 1st year, it was jump right in; I was definitely immersed!! We had no senior missionaries, we were it. I learned Thai to a deep level because had so many Thai people in and out of our home all the time.
Did you stick to a regular study schedule?
My 1st year of study I could keep a morning schedule of teacher hours and study hours on my own, because there was child-care. Then had the afternoons to take care of my toddler, or be out to practice speaking with people. 2nd and 3rd yrs I stuck to a schedule of trying to complete 1 module per month [just 10 per year], but the hours were hit and miss because I was giving my time to people more and more and the bonding and interacting with them made me learn more and more Thai anyway. By my 3rd year I was learning it mostly by relationship and experiences, instead of formal book learning, but I completed each module check, making sure I understood all content and vocab. of the module book before each time.
What Thai language learning methods did you try?
I tried LAMP, and "barefoot" short memorized dialogs to accomplish some specific task. The books I used were the OMF language school module books many of which were developed by Herb Purnell.
Did one method stand out over all others?
Out of the above named methods, the OMF language school modules probably stand out more than the others. They provided the actual language needed for daily life, and allowed for diversifying following actual interests. It's very hard to remember words that one has not much interest in actually communicating. I believe language is a matter of the heart, not academics; the heart needs to be engaged for language to stick.
How soon did you tackle reading and writing Thai?
In the 4th month.
Did you find learning to read and write Thai difficult?
No, it was a relief to finally be able to read words on signs around me instead of depending on phonetics. I loved it.
What was your first 'ah hah!' moment?
The first time I used a few words I'd learned to try to buy something in the market and found that it worked! Also when I "sang" the sentences of my bare-foot dialogue to myself and found I could remember the sentences and tones that way. Learning language tones actually uses the side of our brain that sings or remembers music.
How do you learn languages?
I'm not sure how language learning "styles" are labeled, but I would say I learn the best in relationships with actual communication and not just from books or formal lessons. I also learn from reading in Thai, as I put myself into the story.
What are your strengths and weaknesses?
I would say my strengths are in getting to know people at the heart level, thus comprehension and pronunciation go along with this. I do read/write/type in Thai, but would be weaker in writing and typing than in reading, speaking or comprehension.
What is the biggest misconception for students learning Thai?
That it can be learned from a lot of time pouring over books. To be learned the best, it must be learned in relationships with people.
Can you make your way around any other languages?
Maybe a little Spanish. I learned it in high-school and university, and lived in southern California for many years.
Were you learning another language at the same time as Thai?
No, other than that we lived in an area where the locals spoke the NE Thai dialect, so we had to learn to understand that dialect as well as we studied Central Thai.
What advice would you give to students of the Thai language?
Find Thai friends to bond with, learning to communicate with them as well as having lesson books to guide you. Natural experiences of communicating from your own heart to someone else's is one of the most effective things to learning a language well.
regards,
Ruth Curtis
The Series: Interviewing Successful Thai Language Learners…
If you are a successful Thai language learner and would like to share your experiences, please contact me. I'd love to hear from you.